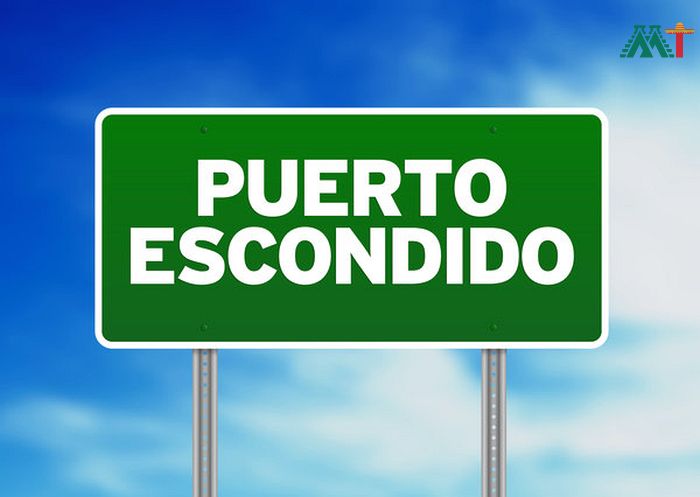 Puerto Escondido is one of the top ten surfing locations in the world. In November, there is an international surfing championship that draws people from all over the world.

History of Puerto Escondido
Puerto Escondido was a coffee-shipping port in 1920.In 1960, with the construction of the highway, it was connected to other coastal towns. Soon, tourists discovered the low prices and beaches, and the development of hotels, restaurants, bars, and clubs began.
The port activity diminished as coffee shipments began going by truck instead of boat. Now, Puerto Escondido is a surfers' haven, attracting young surfers from all over the world.

Weather in Puerto Escondido
Puerto Escondido has two seasons: the summer and wet season, and the winter and dry season. Summer months see temperatures from 79-84 degrees Fahrenheit and winter months at 68-73 degrees Fahrenheit. Early morning and late evening can get chilly enough to require a light sweater.

Accommodations in Puerto Escondido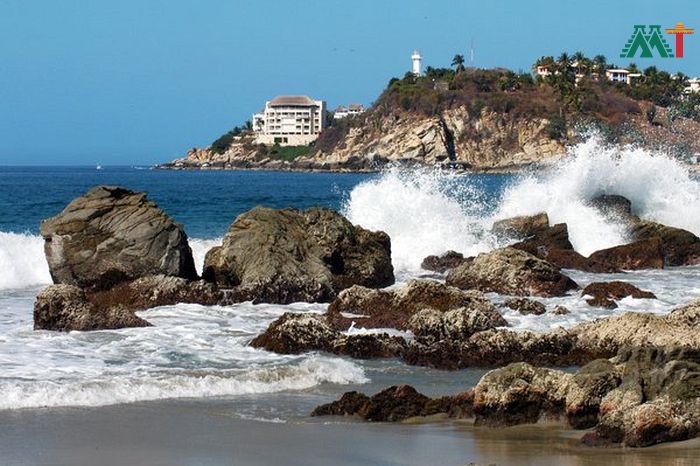 Due to the increase in tourism, hotel prices have been driven up. During the high seasons, mid-December to January, Easter week, and July to August, prices rise dramatically. Several of the hotels have pools, gyms, restaurants, and bars. The Hotel Santa Fe has rooms and bungalows with kitchens, living rooms, and bedrooms next to the hotel.

Restaurants in Puerto Escondido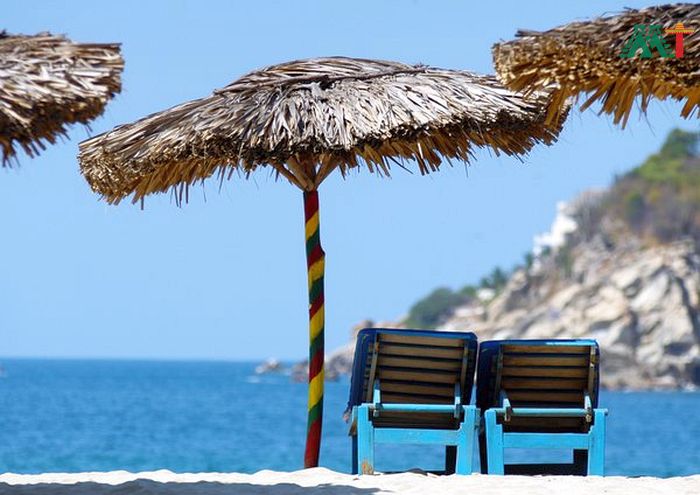 Restaurants serve "surfer-size" portions at great prices. Art Harry, open only during the high season, is the spot to go to have a drink and a bite to eat. The Santa Fe restaurant, located in the hotel, is said to be one of the best on the pacific coast.

Nightlife in Puerto Escondido
Live jazz, discos, bars, and clubs are all part of this surfer's paradise. Several nightspots feature live local bands on a particular day of the week. Many restaurants offer sunset happy hours. If partying is not your style, head to the library where you can play chess or backgammon, buy books, participate in a Spanish class, or have a coffee from the bar. The Surf Papaya restaurant has an upstairs art gallery and has occasional children theater shows.

Shopping in Puerto Escondido
Many shops and stores cater to tourists, selling hats, T-shirts, postcards, clothing, and art. Casa di Bambole sells top-end jewelry, clothing, and bags from Chiapas and Guatemala. The famous Bazaar Santa Fe sells embroidered clothing, jewelry, antiques, and religious artifacts. During the high season, stores are generally open all day, but they tend to close from 2 pm to 5 pm during the low season.

Local Puerto Escondido Cuisine
With such a coastal location, it's no surprise that the local cuisine focuses on seafood. There are several locations where you will find vegetarian, Italian, and traditional Mexican dishes.

Services in Puerto Escondido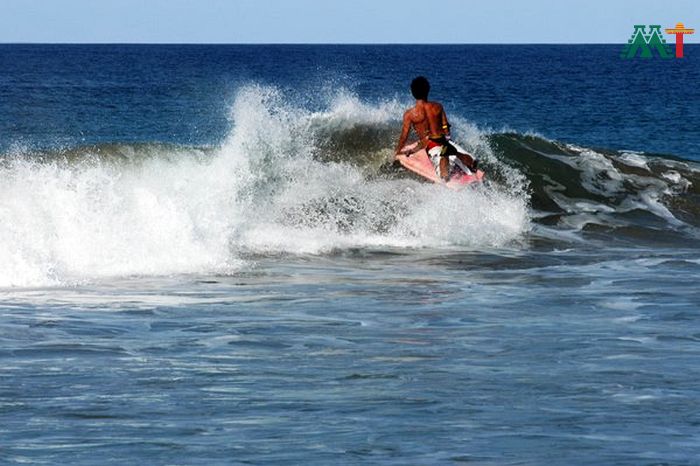 Banks: Several money exchange desks are open from 9 am until 10 pm. Banks are generally open from 9 am until 3 pm. You may experience a long wait in the afternoon.
Internet: There are several Internet and cyber cafes around town. The average price for one hour of internet use is US$5.
Transportation: Most beaches, restaurants, and hotels are within walking distance. Taxis are inexpensive and can be hired by the hour or day. A shuttle bus runs to the beaches further out approximately every half an hour. Cars, bikes, and mopeds are available for rent from several locations. You can also hire a boat to take you to the surrounding beaches.

Surrounding Areas of Puerto Escondido
Puerto Angel: Located 50 miles southeast of Puerto Escondido, Puerto Angel is a tiny fishing port. With its budget hotels and excellent restaurants, this town is popular with backpackers. The beaches and waters are perfect for swimming, fishing, surfing, and snorkeling.
Huatulco: Located 111 km (69 MI) east of Puerto Escondido, Huatulco 36 beaches attract tourists from all over the world.

Where To Go in Puerto Escondido?
Turtle Museum: In 1991, the Mexican government created a project for the preservation and study of turtles. There are several different species of marine turtles here as well as freshwater and land turtles.

Where To Eat in Puerto Escondido?
Seafood is abundant in the restaurants of Puerto Escondido, although several eateries serve international and Mexican dishes.
You will find several cafes, snack stands and ice cream shops located around town.
The most popular dining spot is Cabo Blanco.
Locals, tourists, and surfers flock to this restaurant to dine on delicious dishes such as ribs, grilled shrimp and fish, and steaks.
In the evenings, this restaurant turns into a hip nightspot.
For a relaxing yet elegant meal, head to the Santa Fe restaurant to get a free sunset view with your meals.
You can dine on chiles rellenos, shrimp, grilled fish, salad, and an assortment of vegetarian dishes.
La Perla offers excellent seafood dishes, such as octopus, seafood cocktails, and fish, for attractive prices.
This restaurant is located a short cab ride away from the hotel zone and is well worth the trip.
With its large breakfast dishes and an extensive array of seafood dishes served, La Pergola Mexicana is extremely popular with tourists, especially surfers.
For freshly baked pastries, whole-grain bread, and goodies head to Carmen's La Patisserie.
You can also get sandwiches, fruit salad as well as granola and yogurt for breakfast.
La Gota de Vita, a small cafe, offers simple but delicious vegetarian dishes such as soups and salads, fruit juices, and vegetables.

Puerto Escondido Vacation Ideas
Beaches: Playa Principal and Playa Marinero are the best beaches for swimming. At Playa Principal you will find boats for fishing and tours. There are restaurants and beach chairs along the beach. Zicatela Beach, with large and strong waves, is popular with experienced surfers. It is not safe to swim in. Playa Manzanillo, Playa Bacocho, and Playa Puerto Angelito are all excellent for swimming and snorkeling. Several locals cook the food right on the beach.
Sportfishing: With mackerel, snapper, tuna, snook, and sea bass swimming in the waters of Puerto Escondido, fishing is a popular and relaxing activity. Several companies can arrange a boat, gear, and tackle for US$30 per hour.
Tours: Many companies will arrange tours and trips for you. Several have guides to take you on an Eco-tour to visit the local flora, fauna, wildlife, lagoons, and beaches.
Studying Spanish: Instituto de Lenguajes Puerto Escondido offers one on one or small group lessons.
River Rafting: Big Jim River Trip can arrange a river ride down the Colotepec River.
Water Activities: Several locations are suitable for scuba diving and snorkeling. Local companies can arrange a trip or take you on a guided tour. Boogie boards and surfboards can be bought from various shops.
Massage Services: Temazcalli offers herbal steam baths and different types of massages.

Where To Shop in Puerto Escondido?
A few of the hotels have gift shops, boutiques, or souvenir stores inside.
Shopping hours are generally from 9 am to 8 pm in the high season and from 10 am to 2 or 5 pm in the low season.
There are several small markets, department stores, and pharmacies around town where you purchase essential daily items.
At Casa di Bambole you can find jewelry from Guatemala, clothing, and top-end clothing.
La Luna sells items such as art, beachwear, and jewelry.
1000 Hamacas, hammocks, carries an extensive collection of beds in various styles and colors.
The Hotel Santa Fe hosts a mini-bazaar where you can find Oaxacan embroidered clothes, religious artifacts, exquisite antiques, and jewelry.