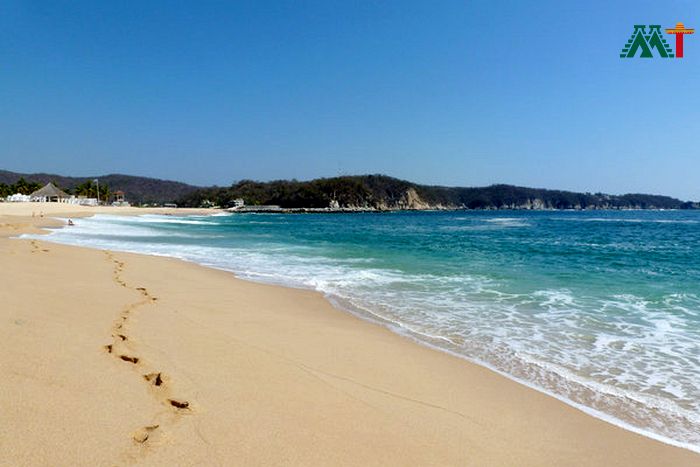 Huatulco is composed of three distinct areas: Santa Cruz Huatulco is the resort area, Crucecita is the residential, restaurant, and shopping area, and Tangolunda Bay is the main beach area until other bays are developed.

Huatulco is becoming one of Mexico's newest resort destination projects. A small fishing village, major hotels, and an airport were initially built in the 1980s in anticipation of further development.
However, construction slowed, giving FONATUR, a government tourist agency, a chance to preserve ecological zones. This was their intention all along. Only two of Huatulco's nine bays have been developed, although paved roads give you access to eight of them.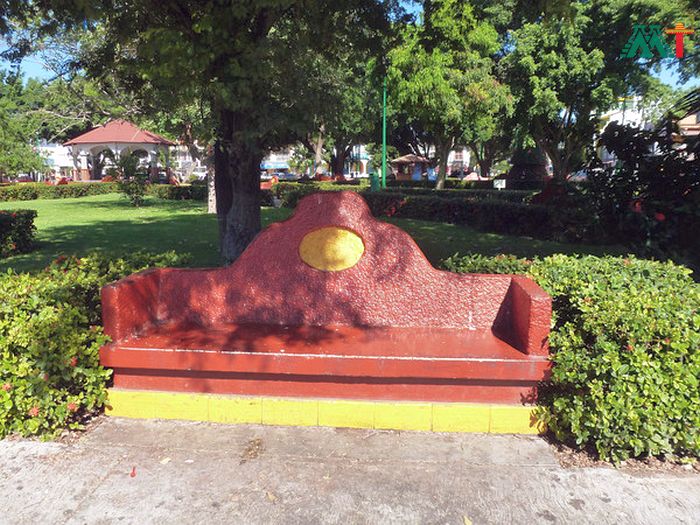 Average temperatures in Huatulco are highs of 45 degrees Fahrenheit and lows of 18 degrees Fahrenheit. These temperatures vary little from month to month.
From May to October is the rainy season, with the most rain falling in September. November to April is the dry season.

Accommodations in Huatulco
The high season in Huatulco is December to April, expect rates to increase during this time. It's recommended that you obtain reservations for Easter and Christmas weeks.
Huatulco has many luxury hotels and only a few budget hotels. Hotel options may include equipment rental, pools, tennis courts, restaurants, bars, massage services, gyms, complete travel and tour agencies, and water-sports centers. Rates range from US$30 to US$400.

The best restaurants, aside from the ones located in hotels, can be found in Crucecita and on the beach in Santa Cruz. Seafood is the most popular choice of food.
Extensive menus and larger portions are typical of the restaurants here. At the Noches, Oaxaquenas performers dance traditional folkloric dances while you eat.

Huatulco has only a few nightclubs and discos, and that's where everybody goes. They are generally open until the early hours of the morning. For a quieter evening, try the Ven Aca, a romantic piano bar, and a restaurant.

Gifts, crafts, jewelry, and souvenirs are the big sellers in Huatulco. Regional bestsellers are Oaxacan embroidered blouses and dresses and pottery made from dark clay. At the Museo de Artesanians Oaxaquenas, artists that make pottery, painted tinware, rugs, and woven tablecloths demonstrate their talents.

Seafood abounds in Huatulco. While the seafood is delicious, prices can be quite high. Italian, regional Oaxacan, and pasta are also available.

Internet: The Internet Cafe open 9 to 9 daily, charges USD 4 per hour.
Banks: All three area banks have automated tellers and money exchange desks. Hours are Monday to Friday from 9 am to 5 pm, and Saturday from 9 am to 1 pm.
Transportation: A rental car or taxi is necessary to get to the three different areas of Huatulco. Taxis are inexpensive and plentiful. A minibus service runs between the three areas and is cheap, fast, and reliable.

Iglesia de Guadalupe: The ceiling in this church is covered with a large painting of Mexico's Virgin Guadalupe.
La Crucecita: This small town, off of Highway 200, resembles a traditional Mexican village. Inexpensive restaurants, shops, stores, a church, the central plaza, even an ice cream store is located here.

Where To Eat in Huatulco?
For an authentic Oaxacan meal, head to El Sabor de Oaxaca. This popular restaurant is favored among locals and tourists. Several specialties, the Mexican Grill, which comes with pork, beef, ribs, sausage, and the Oaxacan Grill, includes a sampling of Oaxacan foods, and enormous breakfasts, are on the menu.
For a variety of seafood and international cuisine, try Don Porfirio. Indoor or outdoor dining, on the covered patio, is enjoyed. The Restaurant de Dona Celia, actually named Avalos but known for its owner, is famous for its extensive menu, large portions, and its view of the Santa Cruz Bay.
Presidente Ernesto Zedillo has even stopped by for a meal. The restaurant located in the Sheraton hotel specializes in Italian dishes. Floral arrangements and lit candles in the evening lend an air of romance to this restaurant.

Beaches: Huatulco has nine bays that encompass 36 beaches. Only two of the bays are developed, but paved roads give access to the other seven. Swimming, snorkeling, kayaking, scuba diving, boat tours, fishing, surfing, and sunbathing are some of the activities you can participate in.
River Rafting: Rafting down the Copalita River can be quite an experience. Huatulco Outfitters and Eco Aventuras are two companies that will take you down the majestic river.
Golf: The Tangolunda Golf Course, adjacent to Tangolunda Bay, offers an 18-hole course. Green fees may vary depending on how many holes you want to play, whether you take a golf cart, and even what time you show up at.
Tours: Several operators offer boat, horse, or ATV tours. Cantera Tours offers an all-day boat tour of the bay. Glass bottom boats are available for rental to tour the Santa Cruz bay.
Bicycling: Mountain biking is famous in the Copalitilla Cascades area. Guided tours are offered at the locations where mountain bikes can be rented.
Fishing: Fishing is popular no matter what the season is. Dorado, tuna, sailfish, wahoo, blue marlin, yellowfish tuna, and even sharks are caught. Local fishers fish all year-round and might take you out in their pangas (small fiberglass boats) to try your hand. Huatulco is an excellent place to fish because it is mainly sport fishing, not a fleet of commercial boats. It's recommended you fish during the day due to oil tankers moving in the waters at night.
Scuba diving & Snorkeling: Most resort hotels have dive facilities, but some divemasters may not be certified. You can arrange tours, courses, and equipment rental at Action Sports Marina located at the Sheraton.
Other Activities: Rappelling, horseback riding, and swimming is popular in the Copalitilla Cascades area.

Where To Shop in Huatulco?
The best shopping in Hualtuco can be found along the Santa Cruz Bay and in Crucecita. The Santa Cruz Market, which is open from 10 am until 8 pm, as well as the Crucecita Market, sell items such as souvenirs, embroidered dresses, and shirts, as well as pottery made from dark clay indigenous to the Oaxacan area.
In Crucecita, the Paradise shop sells resort and beachwear, some of which comes from India and Bali. The Museo de Artesanias Oaxaquenas, which is not a museum but a store, has artists demonstrating how they make the woven tablecloths, tinware, rugs, and pottery, as well as having these items for sale.
It's recommended that you avoid going at noon, as that's when the artists take their breaks. You can find fresh fruits and vegetables, souvenirs, sandals, postcards, and gifts at the Mercado Municipal.