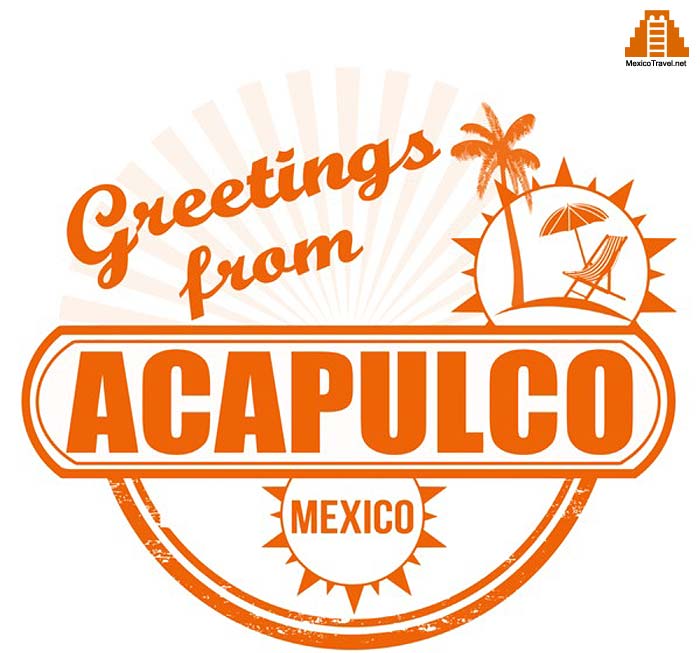 Say the word. Acapulco. The sound of this romantic resort city conjures up a myriad of romantic seaside file. Read about Acapulco. Enjoy. Plan your Mexican vacation.
Acapulco is a seaport located in the southern state of Guerrero on the pacific coast.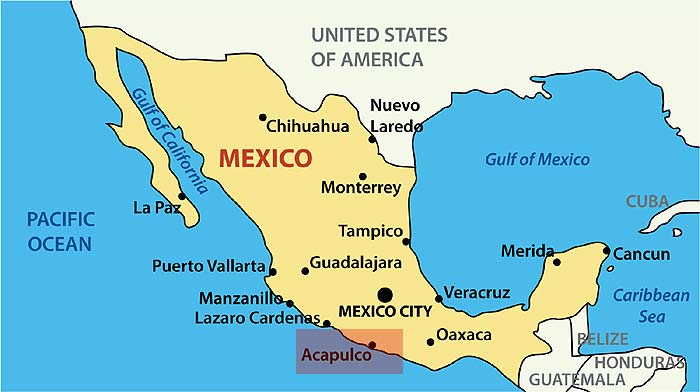 This beautiful resort is approximately 260 miles (420 km) from Mexico City, Mexico's capital.
The city of Acapulco boasts an enchanting blue bay.
The Sierra Madre Del Sur Mountains tower over three sides of Acapulco Bay.

The Nahua Indians, the Aztecs predecessors, lived in Acapulco around 3000 BC.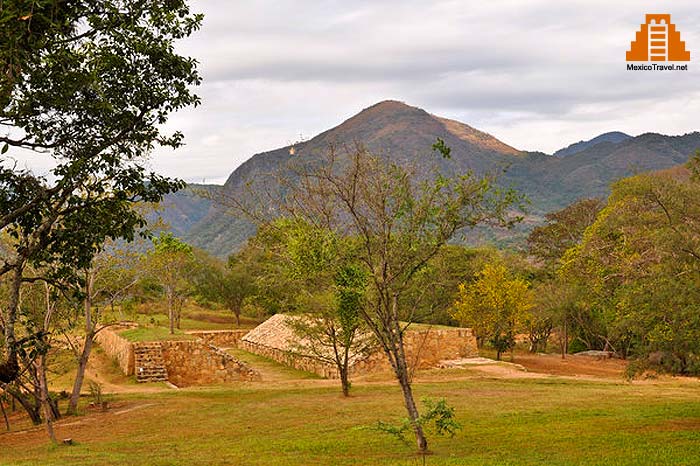 Scholars say that the name Acapulco originated from the Nahuatl words meaning "the place of reeds".
The Spaniard Cortes conquered Acapulco in 1521.Acapulco evolved into a primary trading port.
Trading ships traveled to the orient. Pirates such as Sir Francis Drake enjoyed a haven in the Acapulco waters.
In the 1950's and 60's, American film stars and celebrities helped Acapulco one of the most exciting resorts in the world.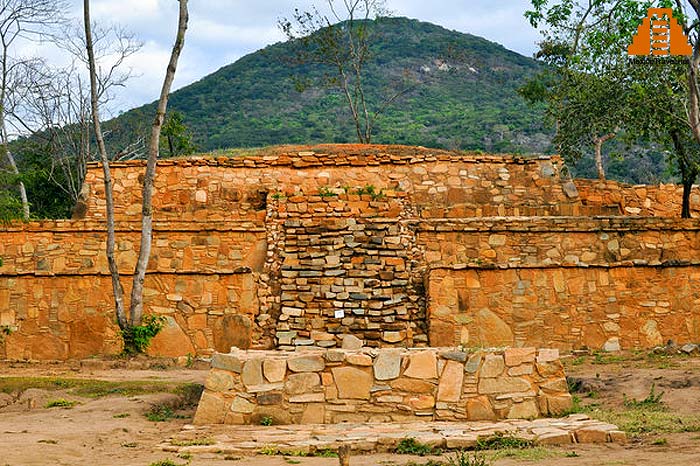 The climate in Acapulco is tropical. It stays warm year-round.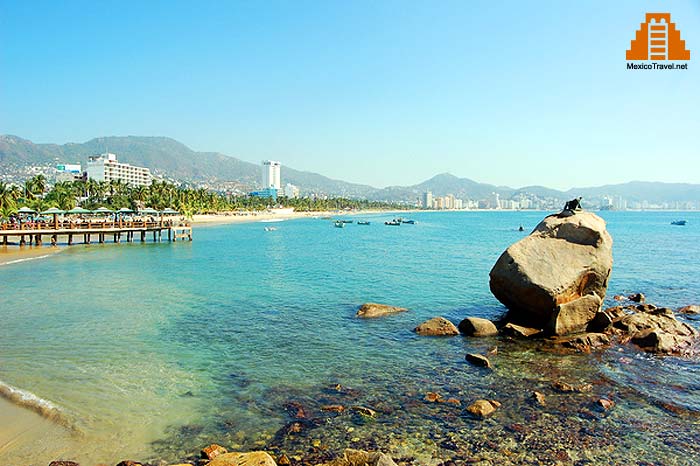 Most of the yearly rain falls in the summer, whereas winter is mostly free of rain.
The average monthly temperature ranges from 88 to 91 degrees Fahrenheit.

There are over 300+ hotels in Acapulco.
These hotels are found in Revolcadero Beach, The Costera on Acapulco Bay, and downtown.
The location of the hotels mainly determines the price of accommodations.
The majority of new hotels are located on the beach.
Hotel rates range from lows of $84 – $130 to $255 – $1, 670.

There are many stores in Acapulco. Shopping is a favorite pastime here.
One of the most popular shopping centers is at the Plaza Bahia. It offers boutique-style shopping. Most shopping is done on the Costera.
The Handicraft Market in Acapulco provides gold and silver jewelry, leather goods, pottery, and other crafts.
Please note that the hours are generally from 10 am to 2 pm and from 5 pm to 9 pm.
Stores close for the siesta times. The Mercado Municipal offers a public market where the Acapulco residents' shop.

Acapulco's nightlife is world-famous. The leading clubs close when the customers depart in the early morning.
There are discos and a unique variety of nightclubs.
Most of these clubs serve domestic drinks until 4 am.
For those who don't dance, Acapulco has many popular lobby bars.

Acapulco offers excellent restaurants. You can choose from a vast selection of international cuisine.
There are several well-known North American chain restaurants.
Naturally, the best Mexican cooking is available.
The seafood and a wide variety of fruits and vegetables make for exquisite cuisine.

Banks: Banks are usually open weekdays from 9 am to 1:30 pm. Some banks also stay open until 3 pm and 7 pm, including Saturdays. Automated teller machines are located in banks and hotels. Casas de Cambio are money exchanges that provide service late at night. MasterCard, American Express and Visa cards are accepted in Mexico.
Transportation: Several Airlines use the International airport located about 25 miles from Acapulco city center. You can drive from Mexico City to Acapulco in three hours.
Acapulco is also a major cruise ship port. Buses run quite frequently to serve the city and the tourist areas. Taxis are quite reasonable. Car rentals are available too.

At La Sabana: about five kilometers from Acapulco, an archaeological site can be found.
The Tres Palos lagoon: is noted for its hunting and fishing opportunities.
The National Park El Veladero: accommodates walking and camping activities.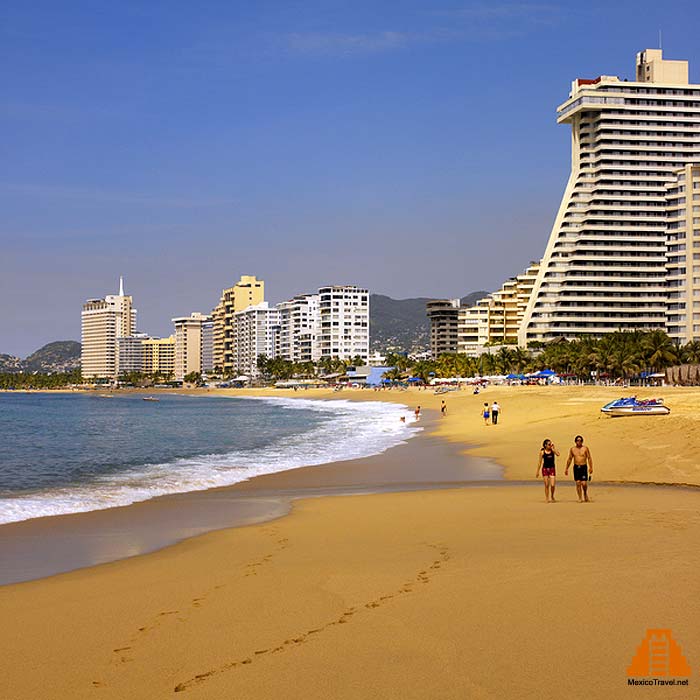 The Zocalo: is the public square in town. Stroll around and enjoy its relaxing atmosphere. At this plaza, you may discover a band concert.
La Quebrada: The home of the world-famous cliff divers. Their dives must be flawlessly executed.
La Isla Roqueta y el Zoo: This zoo is home to a unique variety of animals.
Submerged Virgin of Guadalupe: is a statue at the bottom of the sea. She is the protector of fishermen. The statue is only visible on a glass bottom boat at Caleta Beach.
The National Park El Veladero: is great for treks.
Other Attractions: in Acapulco include the boardwalk, The Cathedral, The Cultural Institute of Guerrero, and the lovely lagoon at Coyuca.

There are more restaurants in Acapulco than there are hotels.
Restaurants located around the square, along the beach and east of the beach tend to be pricey but serve excellent dishes in spectacular settings.
Open-roof terraces, candlelit tables, fresh local seafood, and amazing views at Acapulco's restaurants.
If you're looking for budget-priced meals, head to the Old Acapulco, where you will find inexpensive restaurants serving delicious traditional Mexican dishes.
Azueta Street is lined with seafood stands, cafes, and sidewalk vendors. Every Thursday night, pozole, a white or green corn and meat dish embellished with lettuce, onions, lime, and radishes, is a traditional dish eaten among locals.
The Mezzanotte, which is Acapulco's hot spot offers a blend of Italian,.
French and Mexican cuisines in an upscale, trendy environment with a view of the bay.
A favorite among many locals is El Amigo Miguel, with the freshest seafood served here, the dining room is often packed daily.
Across the street, you will find a second branch with the same menu.
Another local favorite is the Mariscos Pipo. Photos of Old Acapulco, fish, nets, and glass buoys adorn the walls in this restaurant. A wide array of seafood is available too!

In Acapulco, you have almost unlimited activities. You could spend every waking moment in creatively living life to the fullest.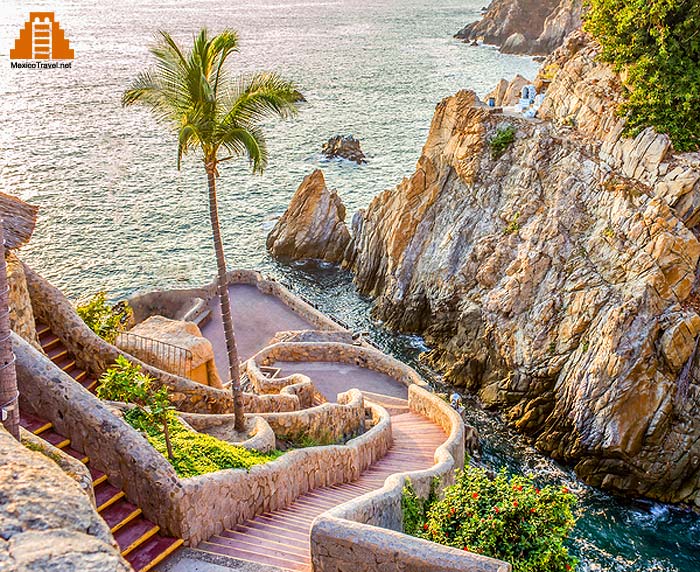 Beaches: The beaches are magical-golden sand with palm trees swaying in the refreshing breeze. Swim in warm blue water. Surf in beaches noted for low tides such as Caleta and Muelles. At Pie de la Cuesta, see the world-famous sunsets.
Water Skiing: Water ski in either freshwater at the Coyuca Lagoon or in Acapulco bay's saltwater.
Sport Fishing: Saltwater fishing is excellent in the waters off Acapulco. Game fish includes sailfish, tuna, marlin, and bonito. Freshwater fishing can also be enjoyed at Coyuca Lagoon.
Snorkeling and Scuba Diving: are also popular activities in the Acapulco area. You can take scuba diving lessons.
Water Sports: You can enjoy parasailing and windsurfing in Acapulco.
Other activities: There are numerous tennis facilities available in Acapulco. Walking on the beach is an all-time favorite of many visitors.

In Acapulco, you will find mega malls, markets, stands, and stalls that sell everything imaginable.
Acapulco is home to a variety of designer clothes and specialty shops such as Guess, Aca Joe, Polo Ralph Lauren and Amarras.
At the Mercado Parazal or the Mercado de Artesanias, you will find stands and stall selling everything from jewelry and silverware to rugs and embroidery, to crafts and gifts.
At the Artesanias Finas de Acapulco, or AFA-ACA for short, you can find tacky souvenirs among the quality folk art.
Furniture, luggage, and saddles are also sold here.
With Acapulco's proximity to Taxco, silver items are abundant. Look for the .925 stamp signifying that the thing is 92.5% genuine silver.
Along the Costera Aleman, many boutiques sell the attractive resort and summer ware, most at prices lower than in the United States.
The Plaza Bahia is a substantial air-conditioned mall with four floors of shops and stores, fast-food restaurants, movie theaters, and a bowling alley.
The Mercado Municipal has items such as fresh flowers, meat, and fish as well as leather goods, paintings, traditional Mexican cooking utensils, hammocks, and baskets. Several stalls sell bones, fish eyes, charms, talismans, lotions, shark's teeth, candles, and incense.
These are used to find a mate, keep a mate, increase fertility, and to keep the evil eye at bay.
Acapulco is home to some American based franchises such as Sam's club, Sanborn's, Wal-Mart, and Costco.

Don't leave Acapulco without testing your skills in a round of bargaining.