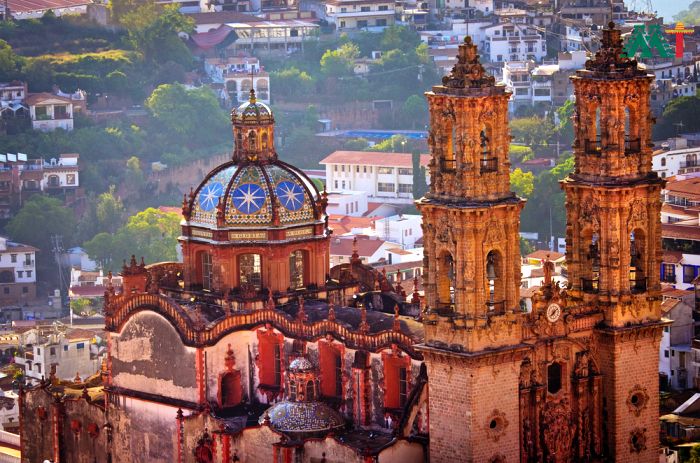 Taxco is a small town in the Mexican state of Guerrero. The nearby big cities include the city of Iguala and Mexico City.
Taxco is famous for silver (from the perspective of silver mining and silverware jewelry making).
This page explores Taxco vacation ideas, what to do, where to eat, surrounding attractions, where to shop, weather info, and more.
Taxco is located 185 miles northeast of Acapulco, 111 miles southwest of Mexico City, and 50 miles southwest of Cuernavaca.

Hernan Cortez discovered the silver mines in Taxco as he searched the region for treasure in 1522.
The silver rush lasted until the next century when mines started to run dry.
In the 1700s, a French prospector, Joseph de la Borda, discovered a silver cache that revitalized the silver industry.
The importance of Taxco faded until a writer-architect by the name of William G.
Spratling arrived in the 1930s and opened an apprentice shop.
Soon his artistic talent began to earn Taxco its reputation as the "Silver City".

Taxco offers unique but straightforward accommodations. Small but charming inns are located in the hills of Taxco with more reasonable accommodations on the outskirts of town. Several hotels can arrange golf privileges at the nearby course. Rates for accommodations range from US$30 to US$135.Reservations may be required for Easter week and during the many festivals and fiestas.

Since Taxco sees many day-trippers from Acapulco, restaurants tend to fill up. Cielito Lindo is the most popular place for lunch. The tables are always full, and the menu is extensive. At the El Mural, you can view the Santa Prisca church or the mural painted by Juan O'Gorman while eating dinner.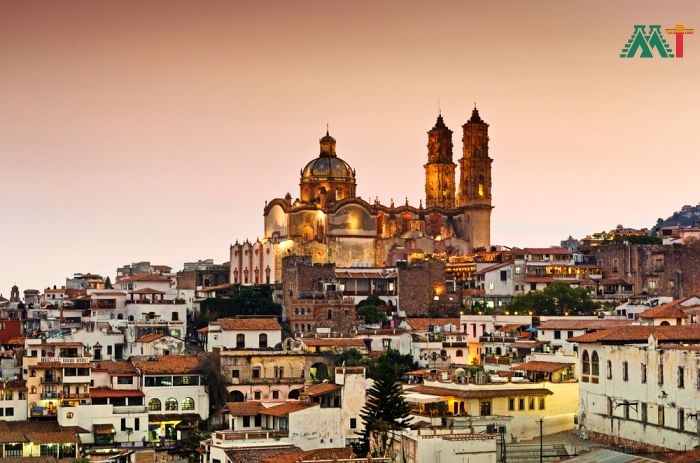 Nightlife in Taxco is more laid back than neighboring Acapulco's. There are a few bars, clubs and discos. The most popular place, among locals and tourists, is Berta's. Swords and spurs adorn the walls, and a saddle hangs from the banister.

There are over 300 shops and stores that sell silver items. At the Mercado Municipal, you can find crafts, pottery, masks, bowls, baskets, and bark paintings at the various stalls.

The main types of cooking you will find in Taxco are Mexican or international. Several restaurants offer limited seafood selections.

Transportation: Due to the narrow, steep, winding roads, it's recommended that you take a taxi instead of renting a car. There are public VW minibusses that wind around town, dropping off and picking up passengers.

Iglesia de San Sebastian y Santa Prisca: Joseph de la Borda had this church built in the 18th century to give thanks for his wealth in silver. This is Taxco's most prominent landmark.
Spratling Museum: A collection of William Spratling's pre-Columbian artifacts are on display in his former home. There is a small gallery that explains the workings of the colonial mines.
Casa Humboldt: This t18th century Moorish house was named for German adventurer, Alexander von Humboldt, who stayed here in 1803.Inside there is a collection of colonial art.
Grutas de Cacahuamilpa: These caves contain 12 km geological formations. A tour of these caves, the largest in Mexico, takes approximately 2 hours.

Taxco restaurants tend to be a little overpriced and busy from all the day-trippers from Acapulco.
Diners can find everything from Mexican to international foods and exotic such as cooked iguana, which locals claim is an aphrodisiac.
For cheap food, you can go to the market where there are several food stands and stalls.
Almost all of the hotels, except for budget ones, have a restaurant inside.
El Mural, one of the most delightful restaurants in town, offers international and Mexican dishes with a view of the Santa Prisca church and an excellent Juan O'Gorman painting.
One of the most popular eateries, the Pagaduria del Rey, has gained a reputation for international foods and dishes.
Toni's, a romantic and classy restaurant, serves house specialties such as steak and lobster and is located on a mountaintop offering a spectacular view of the city.
The Pizza Pizza serves nine different types of pizza and some traditional Mexican dishes such as pozole.
For simple yet hearty Mexican meals, head to the local favorite, Santa Fe.

Golf: There is a 9-hole course at the Monte Taxco hotel.
Tennis: There are tennis courts at the Monte Taxco and Posada de la Mision hotels. Check to see if policies allow non-guests to play on the courts.
Festivals: There are several festivals during the year. They may include dances, music, fireworks, and parades. Taxco is known for the many fiestas held each year in honor of almost every saint.
Studying Spanish: At the Universidad Nacional Autonoma de Mexico students study Spanish, history, silversmithing, and drawing.

Most people come to Taxco with silver in mind. You can find everything US$1 baubles to items that cost hundreds of dollars.
The majority of the shops carry all the same things, but there are a few that have different and unusual items.
You can find bracelets, serving platters, earrings, necklaces, and more.
Many sidewalk vendors sell items from Olinala and the state of Guerrero, such as baskets, bowls, lacquered boxes, paintings, and masks.
Arnoldo's carries a selection of symbolic masks with authenticity certificates and a written description of its use.
Sunday is generally market day, and vendors from surrounding villages and towns come to the city to hawk their wares.