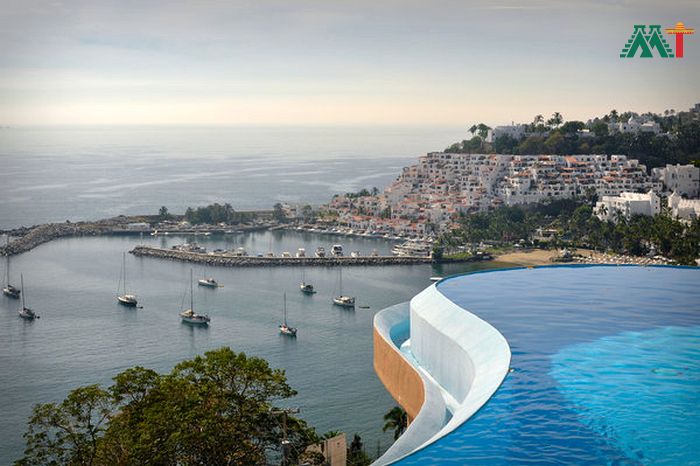 Lined with 20 beaches, Manzanillo is the busiest Pacific seaport in Mexico.

In search of Chinese treasure, Hernan Cortes was the first to visit this area.
Alvaro de Saavedra discovered the Bay of Manzanillo in 1527.
The bay became a departure point for many expeditions.
During the next 300 years, there are accounts of pirates from France, England, and Portugal who burn ships and steal their cargo.
The port of Manzanillo opened in 1825.
On June 15, 1873, Manzanillo acquired the status of being a city.
In 1908 President Porfirio Dias initiated the railway with Guadalajara and named Manzanillo a port of entry.
With renovations, the harbor can now allow access to all primary shipping line.

From November to June, the average daily temperature ranges from 78 to 83 degrees Fahrenheit with nighttime temperature around 65 to 70 degrees Fahrenheit. The rest of the months see average temperatures of 74 to 76 degrees Fahrenheit.

Accommodations in Manzanillo
Most hotels have their own restaurants and sports activities on the premises.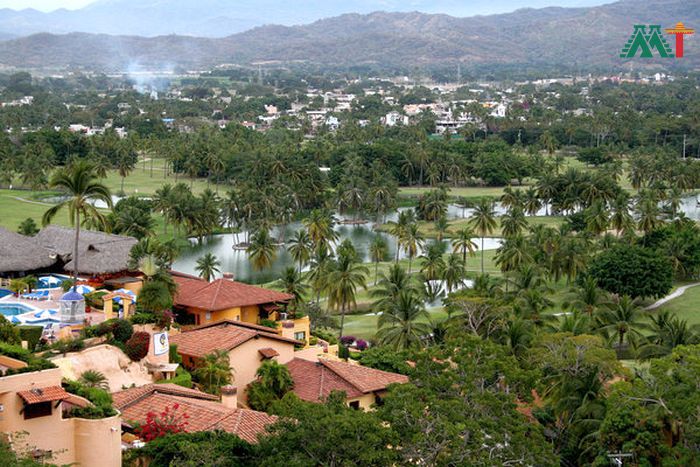 Reservations should be acquired for Easter, Christmas and the New Year's holidays.
The Camino Real Las Hadas has an 18-hole golf course, shaded tents on the beach, two pools, four restaurants, a marina which holds 70 boats, ten tennis courts, and offers many water sports.
The rate at the Karmina Palace, Manzanillo's newest hotel, includes a kids club, eight pools, health club, spa facilities, and steam and sauna rooms.
Rates for accommodations in Manzanillo can range from US$20 for a budget hotel to US$400 for a suite.

Restaurants in Manzanillo
Many hotel restaurants offer fine and casual dining to guests and visitors. Willy's is one of the most popular restaurants in Manzanillo. A live guitarist plays jazz after 8 pm. While eating a meal at L'Recif, you can watch waves crashing upon the rock below. Huge portions, wandering singers, the festive atmosphere, and the proximity to the water makes Bigotes III popular with locals and tourists.

Carols Charlie's and VOG are good spots for drinking and dancing and tend to draw the younger crowd. The nightclub at the Maeva Hotel is also very popular. Olga offers oldies rock and roll and pool tables. Some clubs may have a dress code prohibiting shorts and sandals. For a quiet evening, try the Lobby bar with its romantic piano music.

Most hotels have a gift shop, boutique, or souvenir store located inside. Many stores are closed during siesta hours, from 2 pm until 4 pm. The Centro Artesenal Las Primaveras is an excellent store for handcrafted folk art. There a quite a few shops that stock Mexican crafts and clothing from Guadalajara.

While Italian, French, international and Mexican are served, the emphasis in Manzanillo is seafood with a Mexican twist.

Banks: The Banamex is open Monday to Friday from 9:30 am to 5 pm. Money can be exchanged until 12:30 pm.
Internet: The Net Cafe, located in Juanito's restaurant, is the only internet cafe in Manzanillo. While surfing the net, one can enjoy breakfast, burgers, or coffee. The cost per hour is US$2.50.
Transportation: Taxis have fixed rates by zones, within town, and other areas located out of town. Buses are an inexpensive way to see Manzanillo. Their routes take them downtown and to the beaches. It is recommended that you rent a car if you are going to do a lot of exploring. Agencies may offer discounts, such as the first 200-km free. Rates may vary depending on where you rent your car.

Surrounding Areas of Manzanillo
Colima: Located 98 km (61 MI) northeast of Manzanillo, Colima is famous for it's pre-Hispanic "Colima Dogs" and other archaeological pieces. Another popular attraction is viewing one of the two volcanoes that border the town.

Where To Go in Manzanillo?
Beaches: Playa San Pedrito, with its shallow waters and close-ness to downtown, make this beach the most popular. Playa Miramar is popular with boogie boarders, surfers, and bodysurfers. The best swimming and snorkeling can be found at Playa Audiencia.
Museum of Archeology and -H3|History of Manzanillo Opened in 1996, this museum has displays of the area's history plus shows on contemporary Mexican art. Every Friday evening, there are free cultural events staged.

Where To Eat in Manzanillo?
There is an assortment of cuisines available in Manzanillo, from Mexican to French, Italian to International, and lots of seafood.
There's something for everybody.
The Guadalajara Grill, extremely popular with tourists, serves up massive plates of Mexican specialties such as enchiladas, fish, and fajitas.
With it's proximity to Carlos 'n Charlie's, this restaurant starts to hop in the evenings.
For a taste of Paris, head to Willy's, where people have been known to dine every night of their vacation.
With its beachfront setting, a solo guitarist, and heavenly meals, this restaurant stays quite busy.
Porto Fino's, the city's best Italian restaurant also delivers its delicious wood-fired pizzas to your hotel if you can't make it to the restaurant.
At L'Recif, you can enjoy gourmet seafood specials while watching the waves break on the shore below.
Juanito's, reputed to be the most popular eatery for breakfast dishes, has a large screen TV where tourists and locals go to watch US football.
For budget, but filling meals, head to the food stalls and stands at the daily market.

Manzanillo Vacation Ideas
Golf: The 18-hole course, designed by Roy Dye at La Mantarraya, was rated in the world's top 100 golf courses in Golf Digest. At the Club Santiago, you will find a nine-hole course designed by Larry Hughes. A 27-hole course, which was designed by Robert Von Hagge, is located on Isla Navidad.
Fishing: Manzanillo is known for its sportfishing. Depending on what season you head out to the waters, you can expect to catch sailfish, marlin, dorado, dolphin fish, roosterfish, and wahoo. There is a national and international sailfish competition each year. Trips can be arranged directly at the fisherman's cooperative or through a travel agency. Fishing trips last about 5 hours and cost approximately US$35 per hour.
Scuba Diving and Snorkeling: Rocky points and coves make for excellent diving and snorkeling. Underworld Scuba offers professional diving tours and classes. Giant pufferfish, moray ells, coral reefs, and an abundance of marine life are some things you will see while diving.
Water Sports: Jet skiing and windsurfing are becoming popular activities.

Where To Shop in Manzanillo?
Shopping isn't a great activity in Manzanillo; most people come for the sand and sun.
The majority of the hotels have a boutique or shop inside selling a selection of jewelry, art, and fashionable clothing.
Local craftsmen make exquisite mother of pearl shell engravings and silver jewelry and woven clothing, which are sold in little tourist shops around town.
You'll come across vendors selling tourist items such as T-shirts, belts, hats, and clothing on several street corners.
The Plaza Manzanillo, the largest mall in town, has multiple shops, selling jewelry, fashions, gifts and souvenirs, and a large department store inside.
There are a few dive shops that sell a variety of professional dive gear.
Bargaining is encouraged in Manzanillo, among the many vendors, except in the retail shops and stores, typically located in malls.