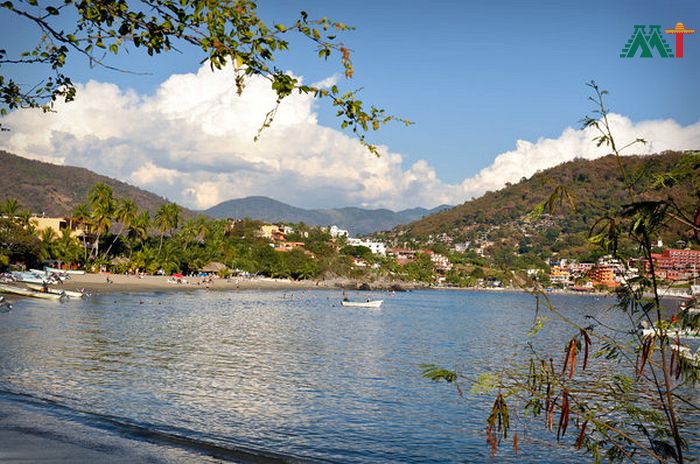 Ixtapa and Zihuatanejo are said to be a "taste of Mexico present and past."
Ixtapa/Zihuatanejo are located 253 km (158 MI) northwest of Acapulco, 565 km (353 MI) southeast of Manzanillo, and 576 km (360 MI) southwest of Mexico City.

History of Ixtapa And Zihuatanejo
Even though Ixtapa and Zihuatanejo are side by side, the two beach resorts couldn't be more different. Ixtapa is a tourist-oriented resort, while Zihuatanejo is a sleepy fishing village. In the 1970s, the Mexican tourist organization, FONTAR, created Ixtapa as a glitzy, showy, expensive tourist resort.
There are clusters of hotels, fancy restaurants, and shopping plazas. Until Ixtapa came along, Zihuatanejo was hardly known. Artifacts such as ceramics, stone carvings, and figurines indicate a civilization dating as far back as 3000 BC.
Spanish conquistadors started a trade route from the Orient to Zihuatanejo Bay. Despite the glamorization of Ixtapa and tourists flooding its streets and beaches, Zihuatanejo has kept its status as an authentic Mexican village.

Weather in Ixtapa And Zihuatanejo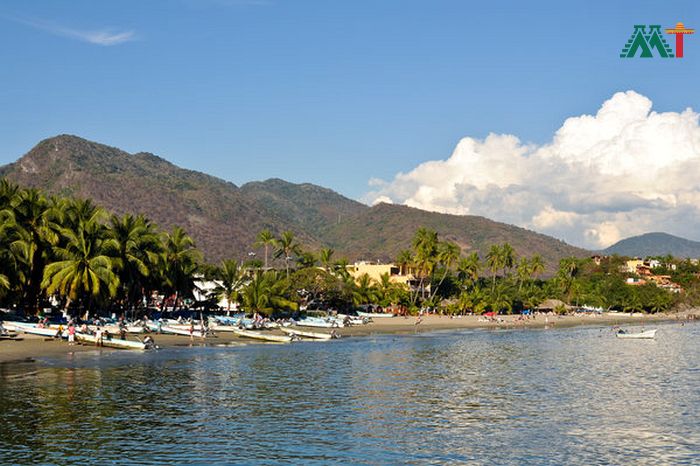 Summers are hot and humid, with a bit of relief from sea breezes and rainfall. August to September is the rainy season, with most of the precipitation in the afternoons.

Accommodations in Ixtapa And Zihuatanejo
Hotels in Ixtapa are more luxurious and pricey. Most hotels are located along the Zona Hotelera, a 3-km stretch along with Playa del Palmar. You won't find many budget-priced rooms here.
The Westin Brisas Resort has five restaurants, a shopping arcade, four tennis courts, a car rental agency, babysitting, massage services, and four swimming pools. Rates for hotels in Ixtapa range from US$150 to $500.
Although Zihuatanejo has its fair share of expensive hotels, it also has most of the budget-priced ones. Rates can range from US$25 for a double room to US$475 for two-bedroom suites. Some hotels have a "no children" policy.

Restaurants in Ixtapa And Zihuatanejo
Many of the restaurants in Ixtapa have delicious food, but they tend to be a little overpriced. Reservations for some of the hotel restaurants are recommended. Several eateries are trendy, and it's recommended that you come early to grab a seat. In Zihuatanejo, several small bakeries sell freshly baked items.

Nightlife in Ixtapa And Zihuatanejo
For a more boisterous evening, head to Ixtapa's clubs, discos, bars, and festivals. Most places don't close until the last person leaves. During the off-season (before Christmas or after Easter), hours may vary from being open only on weekends or closed altogether.

Shopping in Ixtapa And Zihuatanejo
Shops in Ixtapa carry items like clothing, art, crafts, furnishings, beach and casual wear, and a large sports ware store, Aca Joe. La Fuente has wicker tables in the shape of jaguars, masks, pottery, tin mirrors, hand-embroidered clothing, and hand-blown glass. Zihuatanejo has an excellent selection of folk art, jewelry, Mexican crafts, and of course, T-shirts and souvenir shops.

Local Ixtapa And Zihuatanejo Cuisine
Fresh seafood, Italian, continental, Mexican, and Asian are the types of cuisines found in Ixtapa and Zihuatanejo.

Services in Ixtapa And Zihuatanejo
Banks: Banks are open Monday to Friday from 9 am to 6 pm, and Saturday from 9 am to 1 pm.
Internet: In Ixtapa, there are two internet cafes, the Comunicacion Mundial and Dolfy's Internet Cafe.
Transportation: There is a shuttle bus that runs between Ixtapa and Zihuatanejo every 15 to 20 minutes, but it is usually packed with workers commuting. Minibusses run between the Ixtapa hotel zone and downtown Zihuatanejo, and the fare is about US$0.30.A taxi costs approximately US$3 either way. Rates increase by 50% from midnight to 5 am. In the winter, several cruise lines sail to Ixtapa/Zihuatanejo.

Surrounding Areas of Ixtapa And Zihuatanejo
Troncones: Located 20 miles northwest of Ixtapa lies this tiny fishing village. Walking, swimming, sunbathing, and dining on seafood at the local restaurants are what Troncones is famous for.

Where To Go in Ixtapa And Zihuatanejo?
Museo de Arqueologia de la Costa Grande: This museum traces the prehistoric history from Acapulco to Zihuatanejo/Ixtapa. Display signs are in Spanish, but a brochure is available in English.
Beaches: Ixtapa and Zihuatanejo are home to quite a few spectacular beaches. The most popular beach in Ixtapa is Playa Cuachalalate. Excellent for swimming, this beach is also lined with places to grab a bite of fresh seafood.
Across the street is Varadero Beach. Lots of water-sport facilities and restaurants are located here. Behind Varadero is Playa Coral. With its crystal clear waters, this beach is famous for snorkeling.
The Playa del Palmar is the main beach with the hotel zone stretching for 3-km. All along the shore, you will find facilities to rent water sports equipment. In Zihuatanejo, the most beautiful beach in the area is Playa la Ropa.
Only a five-minute taxi ride from town, this beach has hotels, restaurants, and water sports facilities along the shore. Due to a long row of rocks offshore that serves as a breakwater, Playa las Gatas is ideal for swimming, sunbathing, and snorkeling.
At Playa Municipal, fishers keep their gear and boats here. In the early morning, they sell their catch to restaurants and townspeople.

Where To Eat in Ixtapa And Zihuatanejo?
The restaurants located in Ixtapa tend to be a little over-priced, but the food is delicious. Expect to find a lot of typical Mexican meals on the menu. At the Westin Brisas Resort, you have a choice of five restaurants, from classy and romantic to casual and fun.
Several other hotels in Ixtapa have lobby restaurants, all of them offering equally delicious meals. The Barcelo Ixtapa has a Mexican fiesta every week with live entertainment and an extensive buffet. The Villa de la Selva, an expensive restaurant located on the edge of a cliff, serves up excellent international cuisine with views of the stars and surf.
There are several different level terraces, come early to get a prime seat. At the Beccofino, where it's always busy, you can enjoy Italian specialties, including seafood stuffed Ravioli and several other sumptuous pasta dishes. In Zihuatanejo, several bakeries serve up delicious freshly baked bread, cakes, and donuts.
For creative and delectable seafood meals, try Coconuts, which is located in one of the oldest historic buildings in Zihuatanejo. Seafood tacos, coconut shrimp as well as several vegetarian dishes are on the menu here. La Sirena Gorda serves up the most popular breakfasts in town.
Large platters of various fruits, yogurt, eggs, bacon, and daily seafood specials, keep this place packed with many locals and tourists. You can find some of the best meals at Paul's, which doesn't open until 2 pm. All sorts of international dishes, including pork chops, lentil soup, and even escargot, are on the menu.
For a romantic and elegant meal, head to Kau-Kan, where incredible and creative seafood dishes are served. This restaurant has a spectacular view of Zihuatanejo Bay.

Ixtapa and Zihuatanejo Vacation Ideas
Fishing: Trips can be arranged through several different companies. Prices vary depending on boat size, the length of the trip, and how many people are going. Prices may include drinks, pop, bait and fishing gear.
Scuba Diving: Although diving continues all year, the best time to dive is May to December when the water is the clearest. There are over thirty different dive sites. It's best to get reservations in advance during Christmas and Easter.
Boat Trips and Cruises: The most popular trip is to Isla Ixtapa. You can snorkel, scuba dive, rent water sports equipment, and stop for lunch at one of the restaurants. In the evenings, a pleasure sailboat, the TriStar, cruises the harbor. Price includes an open bar.
Golf: The Palma Real Golf Club, designed by Robert Trent Jones Jr. , is an 18-hole championship course. The Palma has its own restaurant, tennis courts, and clubhouse.
The Club de Golf Marina Ixtapa is a challenging 18-hole championship course designed by Robert Von Haggie. Green fees are US$85, which includes a cart or caddie. The Marina also has its own restaurant, tennis courts, and clubhouse.
Other Activities: Equipment is available for rental for parasailing, windsurfing, and waterskiing.

Where To Shop in Ixtapa And Zihuatanejo?
The Mercado de Artesania Turistico, in Ixtapa, has over 150 stands and stalls where you can find souvenirs, T-shirts, and local handicrafts. This market appeared after a law was passed stating no vendors are allowed to sell on the beach. In the hotel zone, you will find several small malls.
Many have small boutiques and shops as well as cafes and small eateries. Inside Los Patios, you'll find La Fuente, which sells arts, crafts, furnishings, pottery, and locally designed clothes.
La Puerta has stores that sell items like regional clothes and art and casual wear. In between Los Patios and La Puerta is Las Fuentes. This mall includes stores like Aca Joe, which has sportswear, Bye-Bye with its casual and beach clothing, and the Supermercado Scruples.
Zihuatanejo has its own Mercado de Artesania Turistico, which is larger than the one in Ixtapa, with over 255 stalls and stands. Silver jewelry, masks, crafts, and ceramics are some of the items you're likely to find here.
At the municipal market, the majority of stands and stalls carry hammocks, baskets, and huaraches, a low-heeled sandal. The Coco Cabana Collectibles has Oaxacan carvings, folk art, and crafts from around the country. The Casa Marina, a small two-story building, has several boutiques that carry handcrafted items such as silver jewelry, rugs, cloths, masks, and carvings.