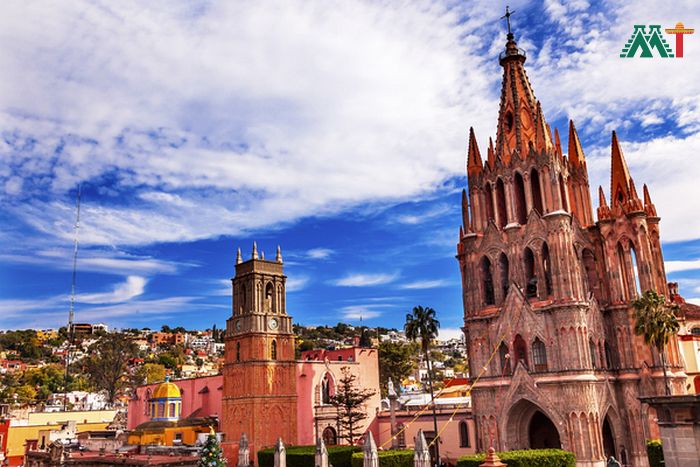 San Miguel de Allende is the central city in the municipality of San Miguel de Allende, positioned in the far eastern part of Guanajuato, Mexico. The UNESCO announced the Protective town of San Miguel and the Sanctuary of Jesús Nazareno de Atotonilco as a World Heritage Site from 2008.
In this page, let's explore San Miguel De Allende vacation ideas, what to do, where to eat, and all attractions around San Miguel De Allende.

History of San Miguel De Allende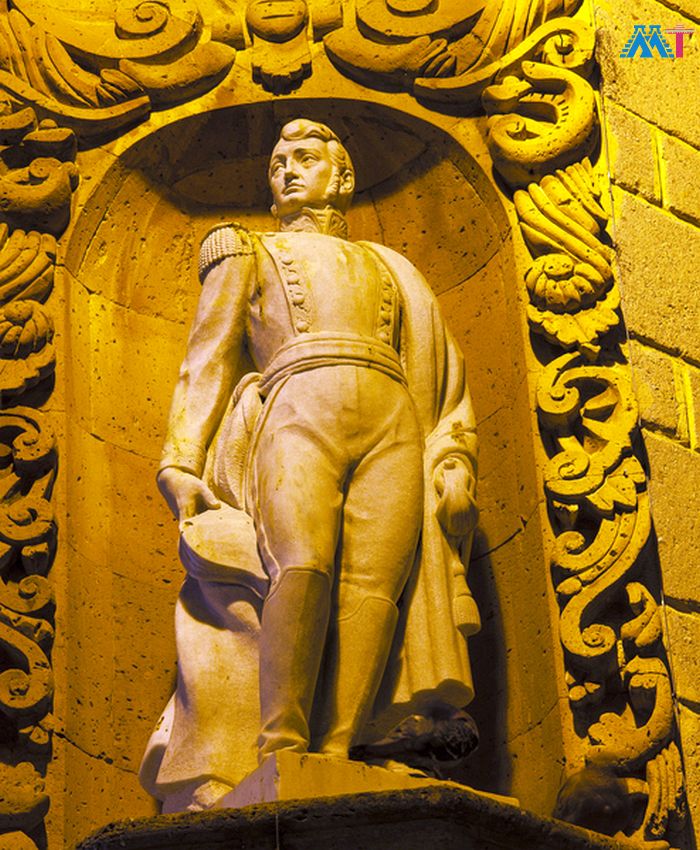 A Franciscan monk, Fray Juan de San Miguel, founded San Miguel El Grande (as it was initially called) in 1542. In 1826, the name was changed to San Miguel de Allende in honor of Mexican independence hero, Ignacio Allende, who was born here.
San Miguel de Allende was officially considered as a national monument by the government in 1926. In 1955 a Spanish garrison was built, and soon, San Miguel became an important commercial center.
There are 18th-century mansions, fountains, churches, monuments, and cobblestone sidewalks. The Instituto Allende, founded in 1951, has drawn artistically inclined foreigners for decades.

Weather in San Miguel De Allende
San Miguel enjoys a moderate year-round climate. The average daytime temperature in the summer months is 80-85 degrees Fahrenheit. Winter months are cool enough to require sweaters and jackets in the evenings and mornings, with temperatures ranging from 60s Fahrenheit to the 70s Fahrenheit.

Accommodations in San Miguel De Allende
There's every accommodation type in San Miguel; inns, motels, hotels, resorts, and bed and breakfasts. Several places offer rooms on a monthly basis.
The Casa de Sierra Nevada has two restaurants; one formal and one informal, limo service, a full spa facility, an equestrian center, and a 60-foot heated swimming pool. Rates range from US$30 to US$400.

Restaurants in San Miguel De Allende
There is a restaurant for every taste, style, and budget in San Miguel. With fierce competition between eateries, restaurants offer elegant settings, décor, and menus.
At the more upscale restaurants, ties, jackets, and reservations are required. There are also many cafés, bakeries, and pastry shops.

Nightlife in San Miguel De Allende
Restaurants offer live bands, music, and dance shows. Several restaurants have a specific type of music show on a particular day of the week.
Jazz, salsa, rock, and blues are some of the types of music they feature. Bars, clubs, and discos open and close with high frequency, so check the local paper for a calendar of events.
The Cine Bar shows American films, and the US$4 admission includes a drink and popcorn. Waiters bring menus to your table.

Shopping in San Miguel De Allende
Since San Miguel is a town of artists, you'll find all types of art for sale everywhere; galleries, offices, restaurants, and other public areas. Shop hours are generally Monday to Saturday from 9 am to 2 pm and 4 pm to 8 pm. There are two public markets where you can find everything from fresh flowers, meat, and produce to crafts, gifts, jewelry, and souvenirs.

Local San Miguel De Allende Cuisine
Although there is every type of cuisine available, you will find an abundance of restaurants serving international fare in San Miguel. Italian, French, seafood, Mexican, American, and vegetarian are also served.

Services in San Miguel De Allende
Banks: There are several banks and money exchange desks located in and around the plaza. Hours are generally Monday to Saturday from 9 am to 5 pm. Most banks cash traveler's cheques.
Internet: Several cafes offer access to the internet and e-mail-the average rate in US$4 per hour.
Transportation: There are car rental agencies located around town and in hotels. Buses frequently run around town and to surrounding villages. Public transportation is a fast, efficient, and inexpensive way to travel.

Surrounding Areas of San Miguel De Allende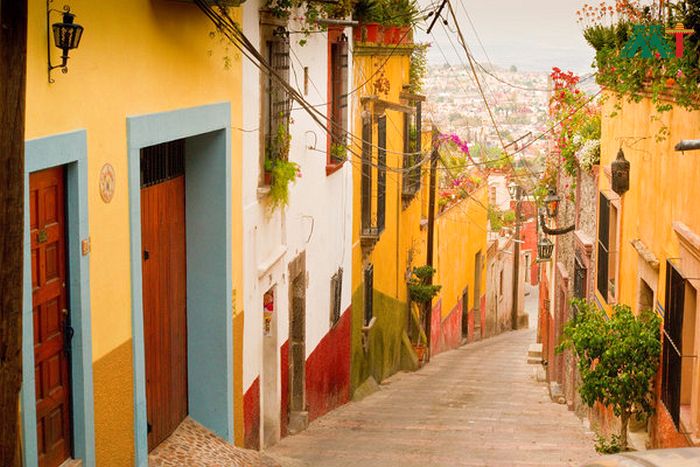 Dolores Hidalgo: There are many factory warehouses in Dolores Hidalgo. Shoppers come from many areas to browse and buy the beautiful pottery made here. Dolores Hidalgo is located 25 miles northwest of San Miguel.
La Taboada & La Gruta: Located just 5 miles outside of San Miguel, these areas have thermal mineral hot springs that have been made into public baths.

Where To Go in San Miguel De Allende?
Bellas Artes: Once the Royal Convent of Conception, this is now a school that offers studies in dance, music, and visual arts.
Casa de Ignacio Allende: The birthplace of one of Mexico's independence hero's now houses a museum and gallery.
El Charco del Ingenio: With more than 1, 500 species of succulents and cacti and 5 miles of walkways, this botanical garden is open for viewing from sunrise to sunset.
Iglesia de la Concepcion: Ceferion Gutierrez designed this church which has one of the largest domes in Mexico and Corinthian columns.
Iglesia de San Francisco: Built in the 18th century, this church is noted for its elaborate decoration on the façade. There are a crucifix and sculptures of Our Lady of Sorrows and Saint John.
Instituto Allende: Founded in 1951, this school is located in the Count of Canal's former country estate. Around the world, many people decided to take classes in social studies, Spanish, and art at this institute.
Lavanderia: Local women gather daily at this outdoor laundry to catch up on the news, gossip with neighbors, and of course, do their wash.
El Mirador: A bronze statue of Ignacio Allende is located at this lookout where tourists and locals gather for a stunning view of the city, the mountains, sunrises and sunsets, and the reservoir.
Oratorio de San Felipe Neri: This chapel was built by local Indians in 1712.In 1734 the Count of Canal had the Temple de Santa Casa de Loreto added on. The Count and his wife are buried under heavily gilded altars.
La Parroquia: Designed in the late 19th century by self-taught Native Ceferino Gutierrez, this parish church was styled in European Gothic.

Where To Eat in San Miguel De Allende?
Despite its size, San Miguel is home to a fantastic amount of restaurants, cafés, food stands, and bakeries. Due to the increase in Canadian and American tourists and travelers, San Miguel has seen an influx of health food and vegetarian restaurants.
The top-end hotels generally have a restaurant inside serving Mexican, international and regional dishes. Bugambilia, an extremely popular restaurant, opened in 1945 and has earned itself a reputation for serving exquisite traditional Mexican dishes.
Candlelit tables, classical guitar music, and attention to detail and service give this eatery an air of sophistication and romance. The Fonda Meson de San Jose serves an assortment of different cuisines such as vegetarian, German, and Mexican.
Locals rave about the delicious foods served at this well-established restaurant. For a change of pace, head to Mama Mia's where the atmosphere is relaxing and pizza and pasta dishes are served.
In the evenings, a folk trio serenades diners. La Buena Vida has freshly baked items daily, such as cookies, flavored scones, as well as having a breakfast menu.
You can eat breakfast and lunch, either in or outdoors at the Café de La Parroquia. Full meals, an entrée, soup or salad, coffee, and dessert, are reasonably priced and keep this place busy.

San Miguel De Allende Vacation Ideas
Festivals: There are approximately 30 to 40 festivals every year. During these festivals, there are bands, music, dances, plays, and fireworks. They may last a day or a week.
Studying Spanish: The Instituto Allende is the most popular institute in San Miguel. Students can study weaving, music, art, Spanish, sculpting, photography, and ceramics. The Academia Hispano Americana and Inter/Idiomas are also excellent schools. Notice boards advertise local families offering accommodations to students.
Mountain Biking: Aventuras San Miguel services and rents bikes to explore San Miguel.
Horseback Riding: The Casa de Sierra Nevada, a 500-acre ranch, offers riding lessons, horse rentals, and carriage rides.
Bullfighting: There are several events each year at the Plaza de Toros Oriente.

Where To Shop in San Miguel De Allende?
San Miguel is an artists' town, and as such, you will find art for sale everywhere. Some of the best inexpensive, colorful, and original handicrafts come from San Miguel and its surrounding areas.
Extend your trip to these areas to see just what Mexico has to offer. Shopping hours are generally Monday to Saturday from 9 am to 2 pm and 5 pm until 7 or 8 pm, and only half days on Sunday.
The majority of shops, stores, and boutiques accept major credit cards. The Mercado Ignacio Ramirez, a traditional Mexican market, has items like fruit and vegetables, toys, music tapes, and crafts.
The Mercado de Artesanias sell work from local artists in tin, brass, glass, clay, paper-mâché, and iron. There are several specialty shops in San Miguel, such as Rates de Mexico, in business for 40 years, which sells and produces traditional crafts, ceramics, and furniture.