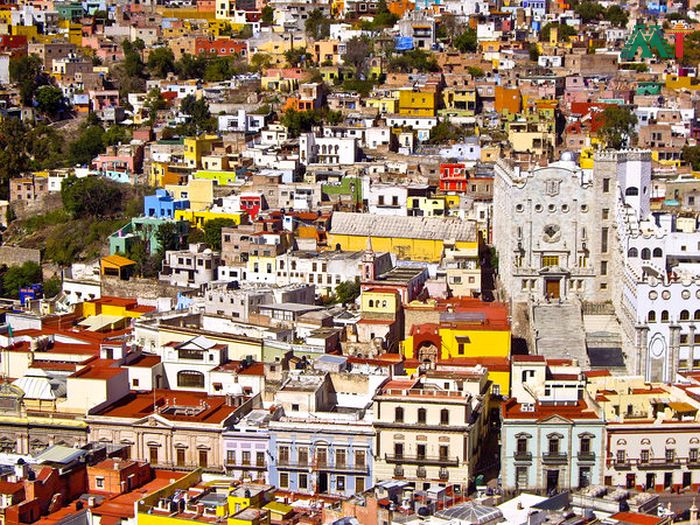 Located 6, 700 ft in the mountains, Guanajuato used to be Mexico's most notable silver mining city. Guanajuato is the capital of Guanajuato state.

Founded in 1559, the city was prone to floods of the Rio Guanajuato until the citizens averted the river.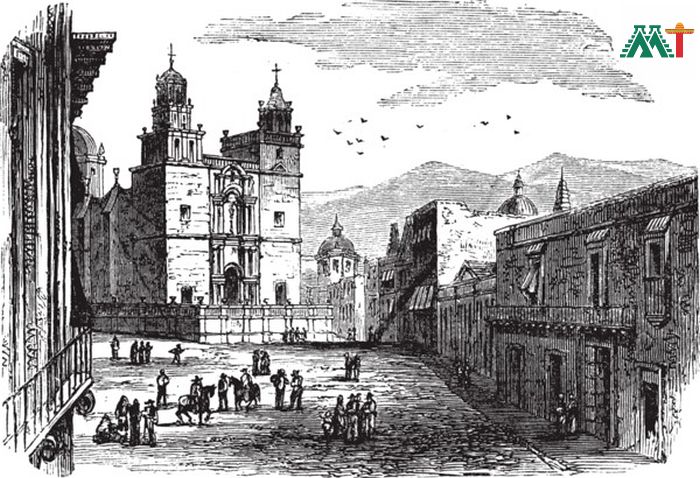 In its place is now an underground highway.
Established as a heritage site in 1988, Guanajuato flourishes as a center for musicians, dancers, artists, and university students.
Throughout the city, you will find monuments to local revolutionary heroes, due to a major military confrontation between the rebel forces and royalist troops in September of 1810.
Guanajuato is the birthplace of famed artist Diego Rivers.
His house is now a museum.
The mines in Guanajuato produced a third of the world's silver.

Temperatures in the winter can drop to freezing levels, with mild temperatures in the summer.

Accommodations in Guanajuato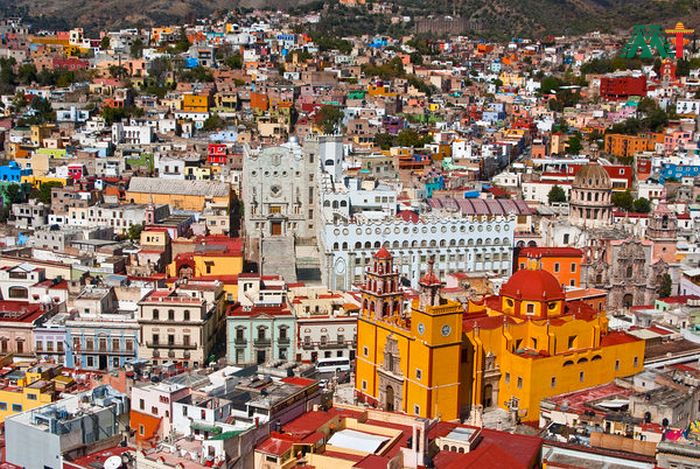 If you plan to attend the Cervantes Festival in October, it's recommended that you secure reservations six months in advance. Rates for hotels range from US$30 to US$300 for a suite. Hotels may include pools, game rooms, whirlpools, and free parking.

Restaurants in Guanajuato
Most of the better eating establishments are located in hotels and along the highway. You can't walk more than a few steps without passing some kind of restaurant, cafe or bistro.

For two to three weeks in October, during the International Cervantes Festival, Guanajuato is alive with musicians, dancers, ballets, and plays. There is a wealth of popular bars and a few clubs. Guanajuato has three cinemas for evening entertainment, as well as plays, concerts, and ballets. Something is going on almost every night, especially during the high season.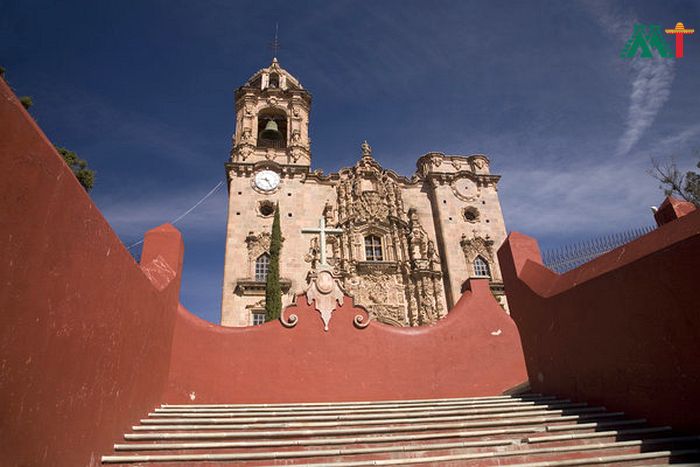 Ceramics, jewelry, knickknack, shawls, silver, and sweaters are the main items in stores. Most stores are open until 10 am to 8 pm, but closed during the siesta hours, 2 – 4 pm.

Most of the small eateries serve only Mexican dishes. Hotel restaurants have a little bit more of a variety of cuisine that includes Italian, international and seafood.

Banks: Banks are open from 9 am to 11 am.
Internet: Redes Internet offers access Monday to Friday, from 9 am to 8 pm, and Saturday from 9 am to 3 pm.
Transportation: Most places of interest to tourists are within walking distance, so a car is not required. Streets and alleys make driving confusing, so it's best to walk in the historical area and use a rental car if you're traveling outside the city. Taxis are cheap and plentiful, but be sure to agree on a price first.

Surrounding Areas of Guanajuato
Leon: Known as the shoemaking capital of Mexico, Leon is located 56 km (35 MI) from Guanajuato. Leather goods such as purses, belts, jackets, and cowboy boots are trendy.

Where To Go in Guanajuato?
Alhondiga de Granaditas: This 18th-century grain-storage served as a jail during the War of Independence. Hooks, on which Father Miguel Hidalgo and Ignacio Allende severed heads were hung, still hang on the outside wall. Now a museum, exhibits of local history, archaeology, and crafts are on display.
Jardin Union: Guanajuato's central square. Tuesday, Thursday, and Sunday evenings musical performances take place here.
Basilica Colegiata de Nuestra Senora de Guanajuato: Inside this 17th-century Baroque church is the oldest Christian statue in Mexico. The 8th-century statue of the Virgin was a gift from King Philip II in 1557.
Mercado Hidalgo: This glass and iron building, constructed in 1910, was designed by Gustave Eiffel. T-shirts, cheap plastic toys, and authentic local wares, baskets, fresh produce, and peanuts, are sold here.
El Museo Casa Diego Rivera: Birthplace of artist Diego Rivers, this building is now a museum housing furniture, family portraits as well as paintings and murals done by the famous artist.
Museo de las Momias: Mummified human corpses, even one as old as one hundred thirty years, are on display in this gruesome museum. Until the law was changed in 1858, if a grave hadn't been paid for after five years, bodies were removed to make room for new arrivals. Guides will give tours in Spanish only.
La Valenciana: One of the best known colonial churches in Mexico. Inside are three altars and religious paintings.
Universidad De Guanajuato: Originally a Jesuit seminary in 1732, this state university welcomes visitors and students. You can find information on lectures, films, art exhibits, and concerts on a notice board.
Teatro Juarez: The principle location of the Cervantes Festival, this theater with its bronze lions, Doric columns, and statues of the nine muses has year-round classical music concerts.

Where To Eat in Guanajuato?
Around town, you can find inexpensive restaurants and bistros that serve international and Mexican fare.
For better quality restaurants, head to one of the hotel dining rooms.
In a refurbished 18th century mansion, the Casa del Conde de la Valenciana has made it's home.
Traditional Mexican fare, such as gazpacho, pollo a la flor de calabaza (chicken in squash blossom sauce), enchiladas, chile relleno, and lomo en salsa de ciruela pasa (pork in a prune sauce) and several international dishes are served.
At La Hacienda De Marfil, where the menu changes every three months, people visit this restaurant to partake in leisure meals.
Fillet Roquefort, steaks, salads, trout in almond sauce, and squash blossom crepes are typical menu items.
Inexpensive meals, a lively atmosphere and artwork by local artists have made the Truco 7 popular with locals and tourists.
Fish soup and vegetables, steak with peppercorn, continental cuisine as well as performances by poets at the bar next door keep the El Comedor real busy.
This restaurant is located in the Hotel Castillo Santa Cecilia.
The university students flock to El Pinguis Cafeteria, with its inexpensive but plentiful meals.
Art posters, loud music, and the rambunctious crowd keep you entertained while waiting for your meal.
For a light or vegetarian meal, head to El Unicorno Azul.
Yogurt, fruit, vegetarian burgers, as well as sandwiches, are served at this food counter.
At the Mercado Hidalgo, there are many food stands and stalls that sell cheap but filling Mexican fare.

Guanajuato Vacation Ideas
Tours: Tour operators offer day and night tours with English speaking guides. Attractions include the churches, museums, and some residential neighborhoods.
Studying Spanish: The University of Guanajuato and the Instituto Falcon offer Spanish lessons.

Where To Shop in Guanajuato?
Shops and stores in Guanajuato are generally open from 10 am to 2 pm and 4 pm to 8 pm.
At the Mercado Hidalgo, which occupies a 1910 glass and cast-iron building, items such as plastic toys, T-shirts, jewelry, knickknacks, local crafts, and baskets are also sold; additionally, candies and nuts are also produced there.
At both the Capelo and Gorky Gonzalez Workshop, you can find colorful and exquisite pottery, which is now made with lead-free glaze.
The Casa del Conde de la Valenciana sells wrought iron decorations from Africa and Mexico, ceramics, tin, and brassware.
Talavera ceramics such as jars, frames, bowls, cups, and plates, from Dolores Hidalgo, are sold at the Artesanias Vazques.
Several shops and stores located around the plaza and Jardin Union sell ceramics, shawls, sweaters, and crafts.
It is said that the best crafts available in Mexico are sold at the FONART store.
Items carved from substances such as pewter, wax, ceramic, papier-mache, and wood, created at several workshops around Guanajuato State, are sold at the Rincon Artesanal.