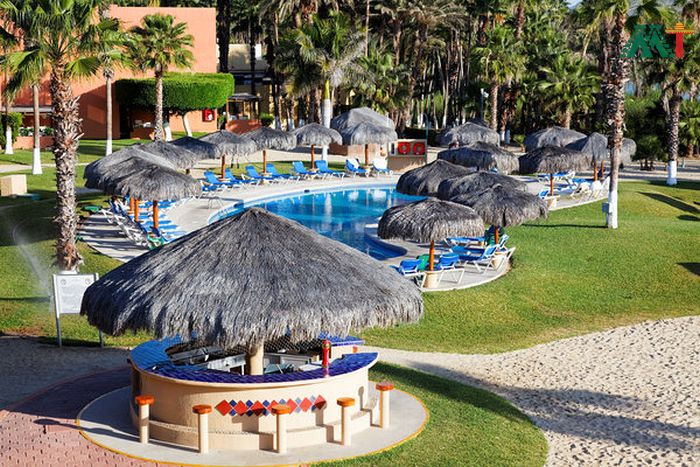 The area known as Los Cabos is composed of three places. Cabo San Lucas, the center of tourist activity; San Jose del Cabo, the municipal headquarters; and The Corridor, which has become a destination by itself with private communities, three championship golf courses, and large luxury resorts.
Los Cabos is 110 MI (195 km) south of la paz, and 1, 120 MI south of Tijuana.

During the 1500s, pirates found that the peninsula was useful for sighting Spanish galleons that were sailing from the Philippines to central Mexico. In the mid-17th century, Jesuit priests set up the San Jose del Cabo missionary to preach religion to the few thousand local Indians.
With them, they brought smallpox and syphilis that nearly wiped out the population in a few decades. While pilots were flying over the area during WWII, they spotted the waters and what appeared to be fishing grounds.
Word quickly spread, and wealthy people with their own planes and boats traveled here, creating a demand for accommodations, fishing lodges, restaurants, services, and landing strips. Cabo San Lucas was, until the 1970s, a small fishing village of 1, 500 people.
Now with a population of over 8, 500, it has become an expensive international resort destination. Francisco de Ulloa founded and named the cape in 1539.
The sheltered bay was perfect for pirates and a watering point for treasure ships from the Orient. In the modern-day, however, as opposed to pirate ships docking here, yachts, skiffs, pangas, and even major cruise ships dock here.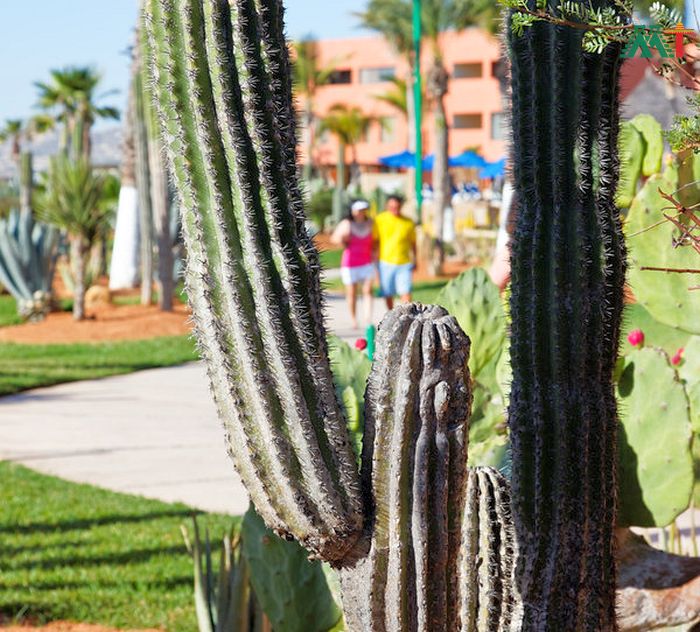 From June to September, daytime temperatures are in the 90s (degrees Fahrenheit), sometimes reaching 110 degrees inland. Near the ocean, temperatures are generally ten degrees cooler. August and September are the rainy months.
Winter months see temperatures of about 70-75 degrees Fahrenheit. Nighttime temperatures range from the 40s to 50s. The annual rainfall is less than seven inches, and the majority of that can fall during one or two storms.

Accommodations in Los Cabos
Budget hotels are rare in this region of Mexico, so it would be best to call ahead for reservations. Accommodations in this area range from quaint bed and breakfasts to luxurious resorts.
Rates may include meals, drinks, equipment rental, spa services, and fishing and golf packages. Prices range from US$60 for a double room to US$2, 700 for a suite. Most hotels accept credit cards.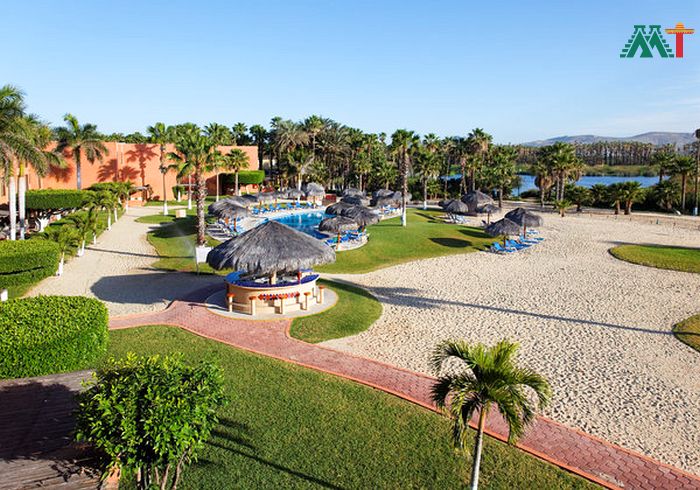 You can find quite a few upscale restaurants in the area, including ones located in hotels and taco stands and shops. Casa Rafael in Cabo San Lucas is considered one of the most romantic in the area; however, it's also a little overpriced. Mocambo's, also in Cabo San Lucas, is a favorite with locals.
This seafood restaurant offers enormous portions at reasonable prices. A master chef, beachfront setting, and fine wines Pitahayas are at the Corridoris, and it is considered one of Los Cabos' best restaurants. Many of the restaurants accept all credit cards.

Nightlife in San Jose del Cabo revolves around hotels, restaurants, and casual bars. Many hotels have Mexican fiesta and theme nights that include live music, drinks, and a buffet.
Entertainment in Cabo San Lucas is distinctly livelier and more upbeat. The Cabo Wabo Cantina, owned by former Van Halen band member Sammy Hagar, attracts the younger crowd, especially when rumors fly off an impending visit by the owner.
Live bands from Mexico, Europe, Australia, and the United States play here frequently. Latitude 22+ is a restaurant/bar that never closes. TVs, pool tables, and dartboards keep the quests entertained.

You can find everything from home furnishings and decorations, to ceramics, art, and pottery, to handmade clothing and blankets to antiques gifts and paintings at the shops, stores and markets in Los Cabos.

While American cuisine is the most dominant, Mexican, French, Asian, Mediterranean, seafood, Japanese, sushi, and Italian are also popular.

Banks: Banks and money exchange desks are open Monday to Friday from 9 am to 6 pm, and Saturdays from 10 am to 2 pm. ATMs and currency exchange booths are located around Cabo San Lucas.
Transportation: Exploring the two towns can be accomplished on foot. Buses run between the cities but may not stop along the Corridor. Taxi prices are relatively high. There are several car rental agencies located around town, as well as several at the airport.
Internet: Dr.Z's Internet Cafe and Bar has access for US$9 per hour as well as a full bar and casual dining. Cabocafe also offers access for US$9 per hour.

Surrounding Areas of Los Cabos
Todos Santos: This small agricultural town is located 30 km (19 MI) north of Cabo San Lucas.
La Candelaria: This secluded Indian village is located 25 miles north of Cabo San Lucas. This dwelling is known for black and white witchcraft that is still practiced here.

Where To Go in Los Cabos?
Estero de San Jose: This estuary, in which the freshwater Rio San Jose flows into, is a natural preserve closed to boats. Over 200 species of birds, as well as other wildlife, live here. A cultural center with displays of Bajas indigenous people is located at the edge of the estuary.
Plaza: With a white wrought-iron gazebo and benches in the shade, locals and tourists go to this large plaza to socialize.
Iglesia San Jose: The town's church has a tile mural of a priest being dragged towards a fire by Indians.
El Arco: The most striking sight in Cabo San Lucas is this natural rock arch that is visible from the marina and some hotels.
El Faro de Cabo Falso: The Lighthouse of the False Cape was built in 1890.A four-wheel-drive vehicle is needed to reach it by land. It is also accessible by boat.

Where To Eat in Los Cabos?
There are many restaurants in this area where to partake in a leisurely, romantic, casual, or family-oriented meal. You can find just about every cuisine imaginable, seafood being the most dominant. In San Jose del Cabo, Damiana's has a reputation for being a romantic dining establishment.
Candles alight the tables while you dine on dishes such as charbroiled lobster, shrimp steak, and chateaubriand. This restaurant is not to be missed. The Restaurant La Playita, said to be a local secret, keeps dedicated tourists and locals returning even though it has changed hands several times.
Fresh seafood is delivered daily as the fishing boats dock only yards away. For a taste of something different, try the Floriska where dishes such as seafood casserole, salmon tartar, and lobster in a vinaigrette sauce are on the menu. To those Americans missing food from home, head to Zipper's where you can find burgers, fries, lobster and steaks served up while watching sports on the large screen TV.
This restaurant is popular with those that come to surf in the waters off San Jose del Cabo. Tourists tend to flock to the Tropicana Bar and Grill, famous for its patio dining, satellite TV, and sidewalk dining. Pitahayas, The Corridor's most elegant restaurant, is located along the waterfront.
The menu has an eclectic assortment of regional dishes with Chinese, Thai, and Polynesian influence. At Da Giorgio II, dining on the terrace is accompanied by a view of the sunset. In Cabo San Lucas, Pancho's is considered a favorite among locals.
There is an assortment of regional and seafood dishes available. The door, Oaxacan tablecloths, streamers, colorful chairs, and murals add to the festive atmosphere, not to mention the large assortment of tequilas available. For a gourmet Mexican meal, head to Mi Casa, located in a bright blue building.
Moonlight and candlelight give this restaurant a romantic atmosphere in the evenings. Regarded as Cabo's most elegant, but also the most expensive restaurant, Casa Rafael has brought tourists returning time and again with the sumptuous dishes and elegant atmosphere.
There are many taco and food stands located in the downtown area, Manuel's Tamales being the favorite among locals. You will also find many US-based restaurants, including McDonald's and Subway, with more opening yearly.
Suggested Reading:

Fishing: There are over eight hundred types of fish in the waters. Many hotels in Cabo San Lucas and San Jose del Cabo can arrange charter trips for you. Most trips include drinks, tackle, bait, a captain and a mate. These trips start at US$250 per day for a 25-ft cruiser. Some charter companies may offer to have your catch frozen, mounted, or smoked. You can rent a panga for about US$30 a day. You will have to board your boat in Cabo San Lucas, as there is no marina in San Jose.
Scuba Diving and Snorkeling: El Arco is the best dive site with its rocky points off the coast. Most hotels can arrange trips and equipment rental. The Solmar V is a live-aboard dive boat that takes weekend-long trips to the islands of San Benedicto, Clarion, Socorro, and the reefs at Cabo Pulmo. The two famous bays for diving and snorkeling are Bahia Chileno and Bahia Santa Maria.
Kayaking: Tours travel along the Corridor? bays. During the winter months, kayaking is especially impressive and exciting when gray whales pass by.
Horseback Riding: With isolated beaches and deserted trails, horseback riding is a popular activity. There are professional training centers that will give you lessons and arrange trips for all levels of riders.
Surfing: Costa Azul is the most popular beach for surfing in Los Cabos. The Killer Hook Surf Shop sells and rents surfboards, boogie boards, and snorkeling and diving equipment.
Golf: Los Cabos hosts several tournaments including the PGA Senior Grand Slam. It's recommended that if you are not staying at a hotel associated with a course, to reserve a tee time at least a week in advance. The average green fees are US$200.
At the Palmilla Golf Club is a 27-hole course designed by Jack Nicklaus. At Cabo del Sol is an 18-hole course, also designed by Jack Nicklaus. A 36-hole course, designed by Robert Trent Jones is located at the Cabo Real Golf Club.
At the Cabo San Lucas Country Club, you will find an 18-hole course designed by Roy Dye. This course overlooks the Sea of Cortez. The most economical course is located at the Club Campo de Golf San Jose. The green fees at this 9-hole course are only US$30.
Beaches: At San Jose del Cabo, the Playa Hotelera is the beach that the more luxurious hotels use. The current is quite rough, and swimming here is not recommended.
Near the Presidente Inter-Continental, at the end of the beach, is a freshwater lagoon with tropical birds and plants. Playa Palmilla is considered the best beach for swimming. At Cabo San Lucas, the Playa Hacienda has calm waters and is perfect for snorkeling, scuba diving, and swimming.
The 3-km stretch of beach at Playa Medano is ideal for sunbathing and people watching. With beachfront restaurant-bars and equipment rental available, it is usually very crowded on weekends. The Playa Solmar has a dangerous undertow and surf.
Tours and Trips: Several companies offer boat and fishing tours, as well as snorkeling and scuba tours. Baja Travel Adventures will design individual tours and has trips to La Paz and Todos Santos.
Pez Gato offers sunset cruises on a 46-ft catamaran and snorkeling and sailing tours. Glass bottom boat tours depart from the marina every 45 minutes.

Where To Shop in Los Cabos?
There are quite a few options for shopping in San Jose del Cabo. The Mercado Municipal has an assortment of fresh meat, produce, and fish, as well as everyday items. At Copal, you can find a selection of Oaxacan carved animals, wood furnishings, masks from Guerrero, and silver jewelry.
An interior design shop, ADD, or Arte, Diseno y Decoracion has hand-painted dishes from Guanajuato, Talavera ceramics, and wood furnishings from Michoacan. In Cabo San Lucas, along with the Boulevard Marina, there is a collection of shops and stores that sell items such as folk art, cotton blankets, toys, ceramics, antiques, furniture, pottery, and dishes.
Grab a coffee at one of the many cafes and take your time browsing the stores. There is a Handicrafts Market located at the marina where you can shop for pottery, blankets, and sombreros and have your picture taken with an iguana.