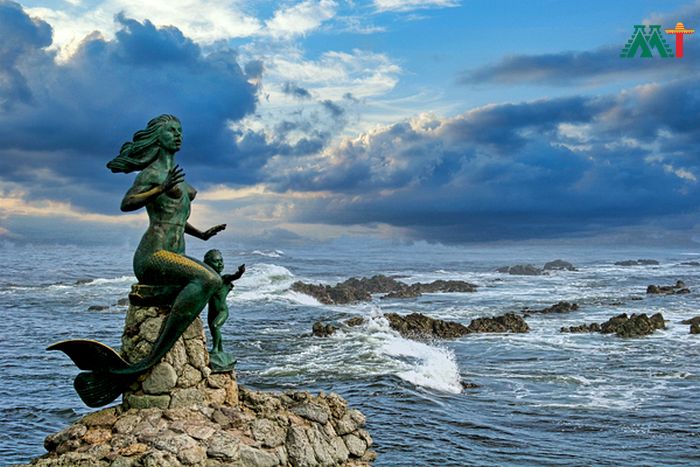 Mazatlán is famous for being the hometown and center of Banda sinaloense, a musical genre that began to develop in the 19th century and is now one of the most popular music genres in Mexico.
In this page, explore Mazatlan vacation ideas, what to see, nearby attractions, where to dine and where to shop around in Mazatlan.
Mazatlan is located 1, 078-km (674 miles) northwest of Mexico City and 502 km (314 MI) northwest of Guadalajara.

In 1531 the Spanish settled in the area and used the native people to build the village and port. Over the next several years, the center of the village started to move north.
The original site of the village is now Villa Union, 24 km south of the harbor. During the 1600s, the government built a fort and watchtower to control the French and English pirates.
They used to harbor to attack Spanish galleons. Even though the 1800s went the pirates, there are still legends of buried treasure in the caves along the coast. During the Mexican War, in 1847, US troops marched through Mexico and shut down the port.
In 1864 while the French attacked the city, they managed to control the port for several years. For a short time in 1871, the British occupied the port. A group of Southerners tried to turn Mazatlan into a slave city after the Civil War in the US.

Expect temperatures from June to October to be in the 90's (degree Fahrenheit) with lows in the high 70's. The rest of the months see average temperatures in the middle 80's. July and August are the rainiest months.

Accommodations in Mazatlan
There are three areas where hotels are located. Olas Altas and downtown generally have budget-priced rooms.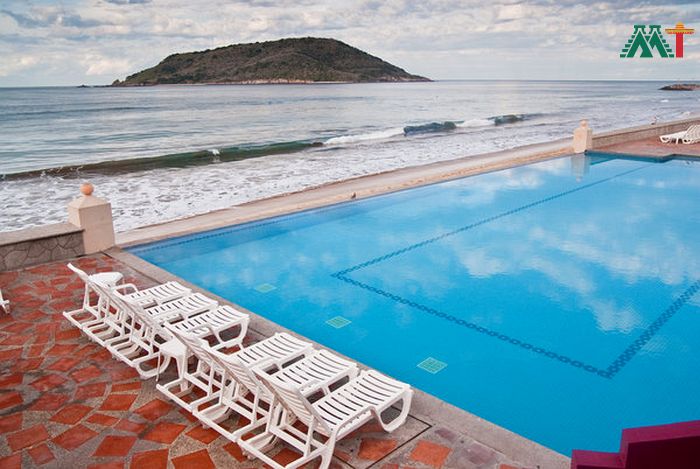 Playa Norte (North Beach) is Mazatlan's original tourist hotel area. Here you will find moderately priced inns, motels, and hotels.
Along the Zona Dorada is where the luxury hotels and resorts can be found. El Cid, the largest resort in Mazatlan, has over 1,320 rooms on four different properties.
In total, there are eight pools, seventeen tennis courts, a 27-hole golf course, eleven restaurants, eight bars, a disco, a marina, a children's program, a dance club, a health club, stores and shops, a business center, and a car rental agency.
Rates for accommodations in Mazatlan range from US$28 to US$500.
During Easter week, spring break, and Carnaval, many rooms are sometimes reserved a year in advance, and rates increase 30% to 40%.

It is not even needed to leave your hotel to dine in a 5-star, gourmet restaurant. Restaurants tend to be casual with moderately priced meals. You don't have to be a guest to eat in hotel restaurants. La Concha, located in El Cid Hotel, is a favorite seafood restaurant for tourists and locals. El Shrimp Bucket, another popular seafood restaurant, is located in the Hotel La Siesta.

Much of Mazatlan's nightlife is located around Fiesta Land. At several of the hotels, there are live dinner shows and entertainment.
Many lobby bars are also quite popular.
Every Tuesday, Thursday, and Saturday evenings at the Playa Mazatlan, there is a Mexican Fiesta.
The US$20 entrance fee includes an open bar, folk dances, live entertainment, and an impressive Mexican buffet.
You won't lack any type of nightlife, no matter what your preference.
There's everything from sports bars to karaoke bars, beach clubs, and piano bars to discos and dance bars, even midnight romantic strolls along the beaches.

The massive Mercado Central, located downtown and open daily, sells handicrafts, produce, fish, and meat at the lowest prices. There is a large selection of crafts stores and shops that sell items like Mexican folk art, mask, handicrafts, gold and silver jewelry, and even a store that sells shells glued together to form everything from lamps to necklaces. La Gran Plaza has specialty shops and stores, a supermarket, and several department stores.

Since Mazatlan has one of the largest shrimp fleets globally, seafood and shrimp are the local specialties. Italian, Mexican, international, Chinese, Japanese, sushi, vegetarian, Cantonese, and European are several different types of cuisine served in Mazatlan's restaurants.

Banks: Banks are open from 9 am to 6 pm. Most banks have currency exchange desks open until noon. ATMs are located in several banks as well as around town.
Internet: There are several places where you can go to access the internet and email. Rates for hourly access vary. The average price is US$3 per hour.
Transportation: Renting a car may not be necessary if you are planning to stay around town. There are car rental agencies located in several hotels as well as outlets around town. Buses are reliable, reasonably priced, and travel most of the city. Some are even air-conditioned. Taxis can be flagged down from anywhere and have fixed rates for specific areas. They can also be rented by the hour or by the day.

Surrounding Areas of Mazatlan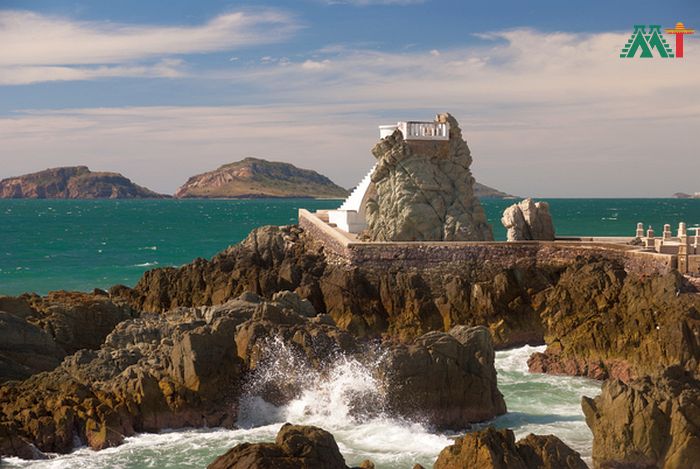 Copala: This colonial mining town is located 73 km (30 MI) at the base of the Sierra Madre Occidental.
El Rosario: This small town, located 50 miles south of Mazatlan, is famous for an altar in the town church that is worth over a million dollars.
Concordia: Known for its furniture makers, an 18th-century church, and brown clay pottery. This town is located 48 km (30 MI) east of Mazatlan.

Cerro de Vigia: At the top of this hill, you'll find a weather station and a rusted cannon. From this hill, you can see the Pacific, the harbor, and both sides of Mazatlan.
Acuario Mazatlan: At this aquarium, you will find an aviary, bird and sea-lion shows, tanks of sharks, lobsters, eels, sea horses, and fresh and saltwater fish.
Instituto Nacional de Antropologia y Historia: This archaeological the museum has a small collection of regional artifacts and displays of pottery left behind by the Totorames Indians.
Mazatlan Catedral: Built in 1890 this church has murals of angels, a gilded altar, and blue-and-gold spires.
Museo de Arte de Mazatlan: Work from local, regional, national artists are on display. Painting classes are also offered.
Parque Acuatico Mazaguas: This water park has wading pools, water slides and a pool with human-made waves.
Plaza Republica: This city square, located in the center of down-the town has a gazebo that looks like a 50's diner on the bottom and a wrought-iron bandstand on top. Locals and tourists can enjoy burgers, shakes, and hotdogs from the restaurant, while listening to musicians play from the bandstand.

Where To Eat in Mazatlan?
With Mazatlan having one of the largest shrimping fleets, it is no surprise that seafood is the most common type of food served in most restaurants.
You can also find Mexican specialties, Italian, Chinese, and international foods served.
There are cuisines and different restaurants for everyone here.
Angelo's said to be the best Italian hotel restaurant in the city, draws tourists with its decor, service, and delectable dishes.
For an authentic meal, head to Pedro & Lola's, which is located in the 19th-century historic building.
This restaurant, named after Mexican singers Pedro Infarte and Lola Beltran, serves up delicious Mexican and several seafood dishes.
La Concha, a the three-level enclosed palm-thatched restaurant is located on the water's edge.
Dishes such as filet mignon, stingray with a black butter sauce, and even calamari in stingray ink are some of what you can sample.
There is also a dance floor and live music during the winter.
For dishes such as oysters, smoked marlin, and octopus head to El Paraiso Tres Islas located on the water's edge with a view of the three islands.
Senor Peppers, an elegant restaurant, serves the best steak and seafood dishes in Mazatlan.
A dance floor, live music, candlelit tables, and lush potted plants give an air of romance to this popular restaurant.
There are also many restaurants located in hotels; El Cid Mega Resort has 11 of them that serve delicious meals.

Sportfishing: Local fishermen practice "catch and release, " so you should expect to do the same. Fishing charters tend to be a little less expensive than anywhere else in Mexico. Rates can range from US$30 per hour for a panga to US$400 per day for a 36-ft cruiser with a maximum of four passengers. Prices may or may not include drinks, tackle and gear, and licenses. From October to January, it's recommended that you make reservations a month in advance.
Golf: The 27-hole course at El Cid, designed by Lee Trevino, is reserved for hotel patrons and their guests, and members of the club. A John Jacobs golf school, the only one in Mexico, is also located in this course. Here, a championship 18-hole course, designed by Robert Trent Jones, can be found, and it is open to the public. The newest course in Mazatlan can be found at the Estrella del Mar Golf Club. Robert Trent also designed this 18-hole course Jones and includes a pro-PGA on staff. There is also a bar, restaurant, and club here.
Beaches: Each of Mazatlan's half a dozen beaches offers its own activity.
Playa los Cerritos is the cleanest and least crowded.
Because the waves are quite rough, surfing is a popular activity.
Playa Isla de la Piedra has miles of sand and coconut trees.
Horses are available for rent.
On weekends vendors sell smoked marlin and sugarcane sticks amidst music, sunbathers, and families.
Playa North is popular with dawn and dusk runners and with guests staying at hotels with no beach access.
Vendors sell tacos, drinks, and fresh fish.
The first tourist beach in Mazatlan is the Playa Olas Altas.
This beach, whose name means "high waves, " is where surfers come during summer when waves are the largest.
The most popular beaches are the Playa Sabalo and Playa las Gaviotas.
They are located at opposite ends of the Zona Dorada.
Here, vendors sell pottery, blankets, jewelry, and tablecloths.
Most water activities, such as boating, parasailing, and windsurfing, take place here.
Eco-Tours: Kayaking, bird watching, mountain biking, sailing the Mazatlan offers tours, equipment rental, and snorkeling Sports Center.
Bullfights: From December to April there are bullfights held every Sunday at 4:00 pm. Rodeos take place all year. Tickets are $8 to $25 and can be bought through most hotels and travel agencies.
Tennis: There are over 100 tennis courts. Some are reserved for hotel guests only, but there are several public courts.
Festivals: During 'Carnaval, ' usually held in February, thousands of tourists flock to Mazatlan to enjoy music, parades, dancing, fireworks, and sampling of food. The week before Easter is the Semana Santa. This is a a smaller festival that draws Mexicans for its music, parades, and religious reenactments.
Horseback Riding: You can rent a horse, with a guide included, for about US$3 per hour.
Studying Spanish: The Centro de Idiomas offers weekly classes as well as individual instruction. There is also a home-stay program. Every Friday there are free Spanish and English conversation groups for locals, tourists, visitors, and students.

Where To Shop in Mazatlan?
You can buy just about everything from clothing and jewelry to pinatas and leather along the Zona Dorada.
The Mazatlan Arts and Crafts Center has an eclectic variety of what you can expect to find in the way of tourist items, such as leather goods, sandals, onyx chess sets, sombreros, masks and pinatas.
For quality silver and gold jewelry go to Rubio Jewelers where you can also find ceramics.
La Gran Plaza, Mazatlan's largest shopping mall, includes specialty shops, several department stores as well as a supermarket.
The one store that is not to be missed is Sea Shell City.
Here, you can find everyday items, such as lamps, necklaces, and even a fountain, made from various types of shells.
You can find many handicrafts and souvenirs at the Mercado Central at much lower prices than anywhere else.
Hunting for the worthwhile ones is said to be part of the fun in bargain hunting.