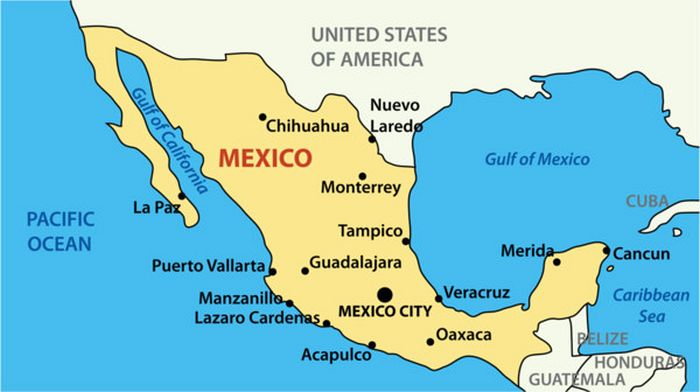 Chihuahua is the capital city of the state of Chihuahua, the wealthiest state in Mexico. Tourism, cattle raising, exported goods, and mining are the reasons for this wealth.
Chihuahua, located in Northern Mexico, is 1,440-km (893 MI) northwest of Mexico City and 375 km (233 MI) south of the El Paso-Ciudad Juarez border.

Chihuahua was founded in 1709, with the name Real de San Francisco de Cuellar. In 1823 it officially became a city. Some of Mexico's most famous historical figures are associated with Chihuahua. Two famed revolutionaries, Father Miguel Hidalgo and Ignacio Allende were executed in Chihuahua. In 1865 Benito Juarez, leader of the resistance against foreign invasion and an advocate of Mexican liberalism, lived in Chihuahua when the French invaded in 1862.In 1910, Chihuahua was occupied by Pancho Villa's army during the Mexican Revolution. Now Chihuahua is typically a stopover for tourists on their way to the Copper Canyon railroad.

The hottest months, May to September, have average temperatures in the middle 80's (degrees Fahrenheit), with lows in the mid-60's (degrees Fahrenheit). While the days are hot, the evenings are quite chilly; it would be smart to wear a jacket. The colder months, November to January, temperatures are in the mid 60's (degrees Fahrenheit) with lows hovering in the lower 30's (degrees Fahrenheit). The warmer dress is recommended in the winter season.

Accommodations in Chihuahua
Rates range from $43 to $170 US dollars for the top-end hotels. With pools, fitness rooms, spas, health clubs, bars, and meeting rooms, the higher end establishments are well worth the price. Most hotels are located within minutes of the downtown area and many cultural sites.

There are not very many restaurants in Chihuahua, but they do serve hearty and delicious meals. Mexican fare is the most popular here, with a wide array of dishes available. With its cafeteria/ restaurant/ bar, the Dega restaurant in the Hotel San Francisco is a famous spot with locals and tourists alike.

With only a few nightclubs, most of the hotspots are located in hotel lobby bars. Musicians, dancers, and performers entertain tourists in the evenings.

There are few markets and shops in Chihuahua, and most are catered to tourists. The Mercado de Artesanias, a block-long market, sells everything from crafts and jewelry to candy and T-shirts. The Casa de las Artesanias del Estado de Chihuahua has the best selection of regional crafts in the state.

Although there is a wide variety of meat dishes, beef is the most common as one would expect of a cattle-raising city. Prepared in many Mexican ways and in many dishes, it is widely used and enjoyed in all restaurants.

Banks: The banks in Chihuahua are generally opened Monday to Saturday, from 9:00 am to 11:00 pm. There is also a Money Exchange at the bus terminal, but better rates can be found at the banks downtown.
Internet: The Cyber Cafe Canaco is located on the 2nd floor of the Chamber of Commerce. The cost per hour is $3.75 US.
Transportation: As in many other cities in Mexico, taxis work on a zone system. Discuss prices before hiring a cab to avoid unpleasant price surprises. Local buses in Chihuahua are cheap and reliable and go everywhere one would want to in Chihuahua. Rental cars are also a convenient way to travel. Outlets are located in downtown Chihuahua.

Where To Go in Chihuahua?
Museo Historico de la Revolucion en el Estado de Chihuahua: Also known as Pancho Villa's House. Pancho Villa lived in this 50-room mansion with his wife, Luz Corral, in 1909.When she died in 1981, the house was willed to the government. Now it's rooms are filled with artifacts and objects of Chihuahua's history and culture.
The Catedral: This Baroque church was started in 1726, but not completed until 1825 due to Native uprisings. With its 24-karat gold ceiling, marble altars, cedar and brass figures, and a huge German-made organ, this building is a sight to see. In the back of the church, there is a museum showing the works of seven local artists from the18th century.
Palacio de Gobierno: (State Capitol) This building was built by the Jesuits as a convent in 1882.In 1891 it was then converted into government offices. Destroyed by a fire in 1940 and rebuilt in 1947, murals around the patio portray famous scenes from the history of the state of Chihuahua. There is also a plaque depicting where Father Hidalgo, the father of Mexican independence was executed in 1811.
Palacio Federal: (Federal Building) The city's post office and telegraph office are found here, as well as the dungeon where Father Hidalgo was held for 98 days before being executed. His weapons, trunks, crucifixes, and copies of personal letters are on display.
Iglesia de San Francisco: Built-in 1721, this is the oldest church in Chihuahua that is still standing. From 1811 to 1827, Father Hidalgo's body was interred in the chapel.
Quinta Gameros: (Cultural Center of the University of Chihuahua) Built in 1910, this Art Nouveau mansion is one of the cultural centers in Chihuahua. There are over two centuries of European art on display here.

Where To Eat in Chihuahua?
On just about every corner in downtown Chihuahua, you can find a hot dog or seafood stall vendor. Fruits, vegetables, cheeses, and meats are sold fresh at the Mercado popular. The Club de Los Parados restaurant, an adobe style house, was opened in the 1950s by a wealthy cattle rancher, Tony Vega. Beef, particularly steak, is the leading choice on the menu here.
A small "ranch-style" bar is located just off the main dining room. The Dega restaurant located in the San Francisco hotel serves American style buffet breakfasts, barbecues, fish, burgers, and salads. Both tourists, locals, and works frequent this popular bar/cafeteria/restaurant. It is said that some of the best Mexican food served in Chihuahua can be found at the Rincon Mexicano. Mariachi musicians play nightly while you dine.
Locals will tell you that La Casa de Los Milagros was the favorite of Pancho Villa and his companions. Now, it's a popular place for music, Mexican snacks and drinks. Shrimp burgers, baked potatoes, foot-long hot dogs, hot wings, and five taco's for two bucks are the specialties at Ah Chiles.

There are many beautiful buildings dedicated to the history and culture of Chihuahua. Take a tour through the silver mines, visit the chapel where famed revolutionary Father Hidalgo's body was kept for 16 years, tour the museums, chapels, and churches, or simply wander the streets.
Excursions: Jump on one of the buses at the old bus station and head to the Santa Eulalia silver mine for a tour, then visit the mining museum in the town of the same name.
Tours: Some reputable tour agencies in town will take you on a tour of Chihuahua City.

Where To Shop in Chihuahua?
The Mercado de Artesanias is a block-long market that sells items such as T-shirts, regional crafts, candy, jewelry, and clothes.

The best local and Tarahumara crafts can be found at the Casa de las Artesanias del Estado de Chihuahua. The Rock Shop carries regional jewels and gems as well as a variety of crafts.