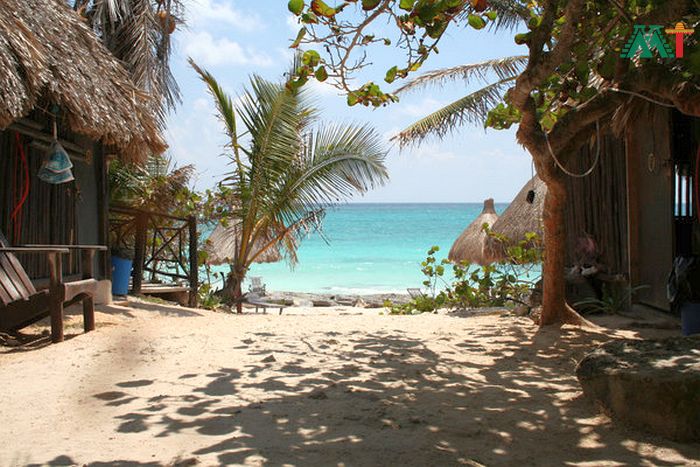 Rosarito has one of the longest beaches in northern Baja, and it is popular with swimmers, sunbathers, and joggers.
Rosarito is located 29 km (18 MI) south of Tijuana.

History of Rosarito Beach
This small seaside community used to be part of the municipality of Tijuana until, in 1995, Rosarito won its battle for self-government. When 20th Century Fox built a permanent studio along the coast, Rosarito received much public attention, especially with the Titanic filming in 1996.A marina, restaurants, and shops are being built with considerable speed in anticipation of a boom in tourism.

Weather in Rosarito Beach
Rosarito enjoys a year-round tropical climate. Ocean breezes make temperatures pleasantly cool.

Accommodations in Rosarito Beach
There are several luxurious hotels, as well as a few budget-priced ones in Rosarito.
The Marriott Real Del Mar Residence Inn offers standard rooms as well as suites.
There is a restaurant, bar, pool, an exercise room, an 18-hole golf course, and spa facilities.
The Rosarito Beach Hotel and Spa was built during the prohibition and was popular with Hollywood stars wanting a drink.
There's a pool, a bar, a playground, and a tennis court here.
Rates for accommodations range from US$50 to US$400.
Rooms can be rented on a per-month basis.

Restaurants in Rosarito Beach
Restaurants in Rosarito range from 5-star to gourmet to taco stands. There are eight restaurants at the Festival Plaza. The Calafia has adopted a Titanic theme, and they have incorporated discarded props into the dining room.

Nightlife in Rosarito Beach
Rosarito is home to many bars and clubs. It seems the most popular night activity is drinking tequila and Corona. There are live concerts, bands, fiestas, and dances. Most weekends you will find a live show at the Festival Plaza. There are stiff drinking and driving laws; police will give you a fine no matter how little you've had to drink.

Shopping in Rosarito Beach
Most major hotels have a shopping arcade, stores, and craft shops. At Casa la Carreta, Rosarito's best furniture shop, you can watch carvers shaping desks, armoires, and dining tables. Blankets, crafts, leather goods, gifts, and souvenirs are some items for sale at the open-air market. A new shopping center is being built in central Rosarito that will be home to over 100 stores.

Local Rosarito Beach Cuisine
Fresh seafood, creative Mexican dishes, steaks, French, Italian, Japanese, and Chinese are the types of food you will find in Rosarito's restaurants.

Surrounding Areas of Rosarito Beach
Puerto Nuevo: Located 12 km (8 MI) south of Rosarito, Puerto Nuevo is famous for its lobster and seafood.
Ensenada: Ensenada is one of Mexico's largest seaports and has a prosperous fishing fleet and fish-processing industry. Located 75 km (47 MI) south of Rosarito, Ensenada is the third-largest city in Baja.

Where To Go in Rosarito Beach?
Titanic Museum: After filming the movie "Titanic, " many props, soundstages, and sets were left behind. A museum was opened to display these items, which include furnishings, lifeboats, and crates.

Where To Eat in Rosarito Beach?
Rosarito is home to several excellent restaurants serving seafood, Mexican dishes, French and Chinese foods.
La Lena de Rosarito, a The 4-star restaurant offers traditional Mexican dishes in a cozy atmosphere.
With a piano and sports bar and reasonable prices La Lena is one of Rosarita's most popular eateries.
A local favorite, El Patio de la Langosta offers house specialties such as lobster and seafood.
For the past 30 years, El Nido Steak House serves traditional Mexican cuisine and excellent steak dishes.
The Calafia, with its Titanic theme, including a Titanic dining room, and its location on the ocean, offers exquisite fresh seafood and traditional and creative Mexican cuisine.

Rosarito Beach Vacation Ideas
Golf: The Real del Mar Golf Club has an 18-hole course that overlooks the ocean. Several hotels offer golf packages.
Surfing: At Popotla, Calafia, and Costa Baja waves are perfect for surfing. You can buy and rent surfing equipment from Tony's Surf Shop.
Beaches: Rosarito is home one of the longest beaches in northern Baja. On weekends the shores are packed with families, tourists, and locals looking for a few hours of sun and swimming.
Spa: At the Rosarito Beach Hotel & Spa you will find the Casa Playa Spa with full spa facilities.
Horseback Riding: Riding along the beach is a popular activity. Tours of the countryside can be arranged through individual owners.

Where To Shop in Rosarito Beach?
Rosarito is an excellent place to shop for items such as pottery, household items, and wood furniture.
The majority of the hotels have a shopping arcade, boutique, or shop located inside.
At the Interios del Rio Casa del Arte y La Madera, you can find an excellent selection of folk art and painted furnishings.
Pancho's Curios carries items masks, pottery, blown glass, patio furniture, and wrought ironworks.
For Guatemalan textiles and clothing, head to Margarita's located in the Rosarito Beach Hotel Shopping Center.
A shopping center is being built and will include Sara's, Sanborns, and about 100 shops, stores, and boutiques.