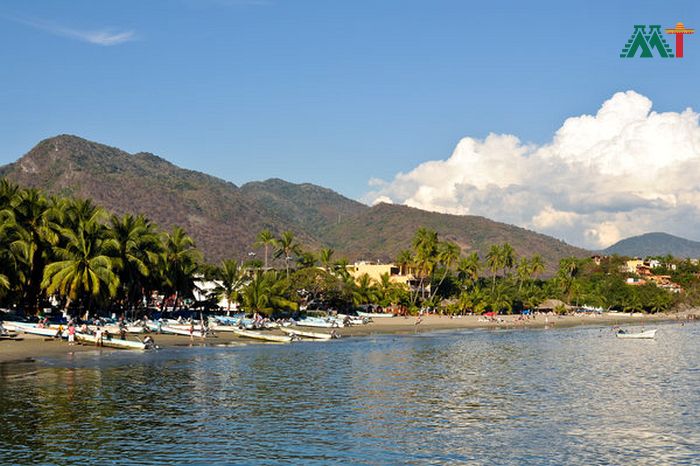 Rincón de Guayabitos (also referred to as Guayabitos) is a famous beach resort area in the Mexican state of Nayarit. This beautiful resort area is embraced with 2 km of beachfront. The nearby major cities include Tepic and Guadalajara.
This page explores Ricon de Guayabitos, including attractions, restaurants, services, vacation ideas, and more.
Rincon De Guayabitos is located 85-km southeast of Tepic in the state of Nayarit.

History of Rincon De Guayabitos
In the 1970s, the Mexican government decided that Guayabitos was to become a resort and an area where foreigners could own property. During Christmas, Easter, and summer Guayabitos has become a haven for tourists that don't enjoy city life.

Accommodations in Rincon De Guayabitos
During the low season, August to November, hotels are only half full, and you can bargain your rate down. Bungalows are the main types of accommodation, which means they have kitchens. Prices range from US$14 to US$50, weekly and monthly rooms are available. There are several trailer parks with boat launches.

Restaurants in Rincon De Guayabitos
The majority of restaurants are family-run diners. There are many fruits, and taco stands along the beach.

Nightlife in Rincon De Guayabitos
The popular nightspot is at the Hotel Coco Club. Rock music plays until the wee hours of the morning.

Local Rincon De Guayabitos Cuisine
The local cuisine is seafood and Mexican dishes.

Services in Rincon De Guayabitos
Banks: The only bank in Guayabitos is the Bancomer, open Monday to Friday from 8:30 am to 11 am. There are no money exchange desks, but the Bancomer cashes traveler's cheques.

Surrounding Areas of Rincon De Guayabitos
Sayulite: Located 27 km (17 MI) south of Guayabitos Sayulite is a small fishing village. The beach offers swimming, surfing, and fishing.

Where To Go in Rincon De Guayabitos?
Isla Islote: Glass bottom boats line the shore waiting to take people for a ride near this island where you can view marine life through the boat bottom and see frigate birds and terns nesting on the island.

Where To Eat in Rincon De Guayabitos?
Some hotels feature a restaurant/bar option where guests can grab a bite to eat and meet the neighbors. You will find a few fruit stands and stalls with fruits such as mangos, in-season pineapples, papayas, and melons around town.
At the Trailor Park Villanueva, perhaps the most popular spot to eat, patrons dine on locally caught fresh seafood on the beachfront patio.
Chuy's, a popular local hangout, serves reasonably priced Mexican dishes.
For a hearty yet inexpensive meal, head to the family-run Cocina Economica Dona Carmen.
Pozole, a spicy pork roast and hominy soup, tacos, and local seafood are all on the menu.
The Fuente de Sodas Arco Iris has an eclectic menu with items such as tacos, tortas, burgers, stew, and fruit juices.

Rincon De Guayabitos Vacation Ideas
Beaches: Playa Guayabitos is the main beach. Locals and tourists head to this beach for swimming, tanning, boat rides, and fishing. Farther down the beach, there's an area that's good for body surfing and swimming. Afternoon winds make for good sailing and windsurfing. To get to Playa La Raza, you will need a high clearance vehicle. The beach is perfect for sunbathing and camping.
Scuba Diving and Snorkeling: There's a good dive spot offshore of Isla Islote, accessible only by boat. A few local stores sell masks, fins and snorkels.
Fishing: The Tournament of Sportfishing of the Sail-Fish is celebrated in February.
Tennis: There is a tennis court located at the Hotel Rincon de Las Palmas.

Where To Shop in Rincon De Guayabitos?
There are several mini-markets in town that offer the essential day to day items.