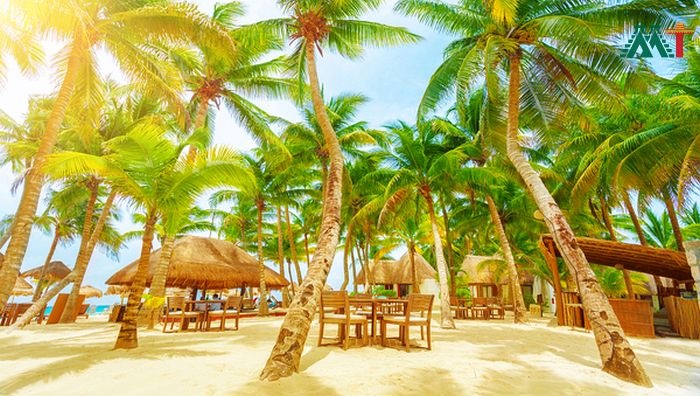 Playa del Carmen is a Mexican city positioned along the Caribbean Sea, in the state of Quintana Roo, Mexico. It is one of the popular tourist areas in eastern Mexico.
Playa del Carmen has a wide array of tourist activities since it is situated in the Riviera Maya. This city also hosts PGA Tour golf tournaments and home for many television shows.
On this page, explore Playa Del Carmen vacation ideas, nearby attractions, what to do, where to eat, and where to shop & more.
Playa del Carmen is located 32-km (20 MI) southwest of Puerto Morelos, 70 km (44 MI) southwest of Cancun, 11 km (7 MI) north of Xcaret, and 13 km (8 MI) north of Puerto Calica.

History of Playa Del Carmen
Playa del Carmen started as a sleepy fishing village. Now it is one of the fastest-growing cities heading towards a resort destination.

Weather in Playa Del Carmen
Playa del Carmen enjoys warm weather year-round. From February to May, springtime, the average temperature is 78 degrees Fahrenheit. While the nights are cold, sweaters and jackets usually aren't needed. Summertime in Playa del Carmen, from June to August can be hot. Hats and cotton clothing are the standard dress.

Accommodations in Playa Del Carmen
There are hundreds of accommodations in Playa del Carmen.
You can find everything from bed and breakfasts and motels, to inns and villas to luxury resorts.
The more expensive and luxurious resorts are located in Playacar, at the south edge of town.
The Iberostar Tucan and Quetzal is an all-inclusive resort with 2 bars, three restaurants, a spa, health club, shops and stores, and a nightclub.
Around the grounds are turtles, toucans, ducks, hens, and even flamingos.
Rates range from US$35 to US$330.

Restaurants in Playa Del Carmen
Many restaurants in Playa del Carmen do not accept reservations. They can always come up with a table no matter how busy they seem. Most restaurants don't take credit cards.

Nightlife in Playa Del Carmen
If you prefer a quiet evening strolling along the beaches, wandering the streets, and sipping a drink at an open-air cafe, it is a pleasant way to spend it.
There are several bars, nightclubs, and lobby bars.
Captain Tutiz, designed like a pirate ship, has nightly live entertainment, a bar area, and a large dance floor.
If you're into partying and the rowdy scene head to Senior Frog's where there's loud pulsing music, Jell-O shots, and unlimited drinks.

Shopping in Playa Del Carmen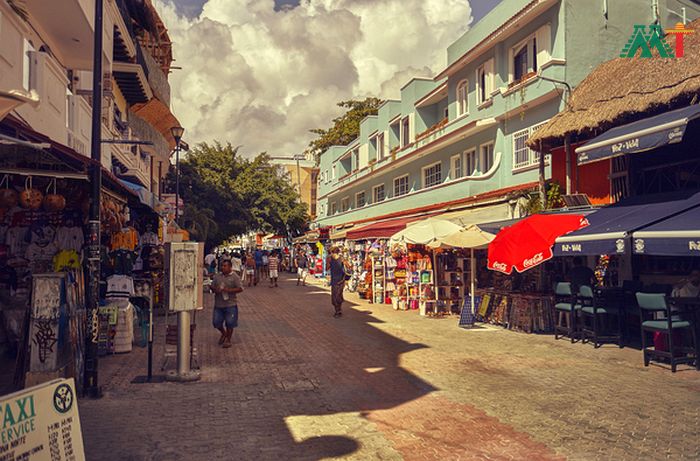 There are several shops, stores, and boutiques that sell exquisite arts, crafts, hand-painted clothing, and textiles from all over Mexico.

Local Playa Del Carmen Cuisine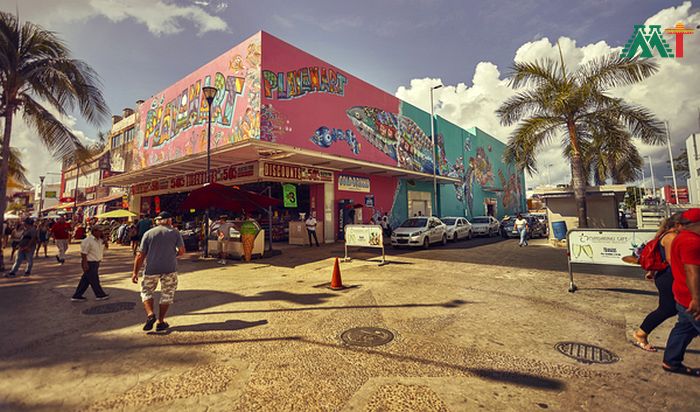 With all the different ethnic people visiting Playa each year, there seems to be a restaurant catering to them all. From Thai to Japanese, Mexican to Yucatecan, and vegetarian to seafood, finding something to appeal to your palate will be an activity all on its own.

Services in Playa Del Carmen
Banks: Most banks are open from 9 am to 5 pm Monday to Friday, and several include 24 hour ATMs. Money exchange desks generally keep the same hours.

Surrounding Areas of Playa Del Carmen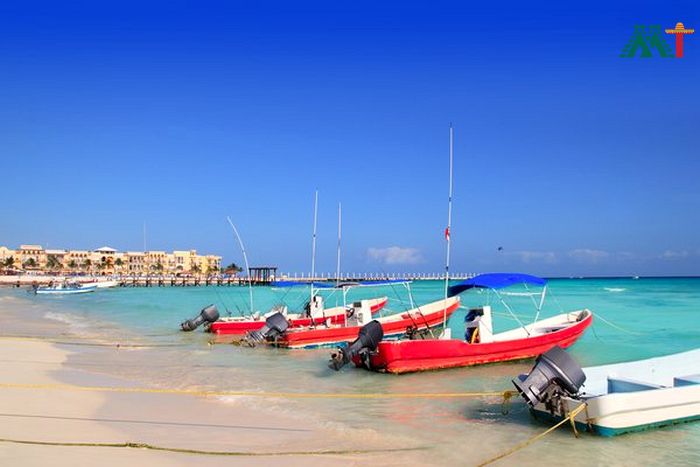 Xcaret: With an aviary, tropical aquarium, botanical gardens, a dive center, an underground river ride, a replica of a Maya village, and even an artificial beach for snorkeling and scuba diving you won't lack for anything to do at this 250-acre ecological theme park. It is located just 10 km (6 MI) south of Playa del Carmen.
Paamul: This crescent-shaped lagoon that's sheltered by a coral reef is perfect for snorkelers. In June and July, you can see sea turtles hatching, located just 20 km (12 MI) south of Playa del Carmen.
Cancun: Playa del Carmen is just 70 km (44 MI) away from the hustle and bustle, excitement, and splendor of Cancun.

Where To Go in Playa Del Carmen?
Beaches: Pristine white sand meets the crystal clear blue waters of Playa del Carmen. The main activity along the beach is sunbathing and relaxing.

Where To Eat in Playa Del Carmen?
There are many restaurants in Playa del Carmen offering many cuisines.
From Italian to seafood, Traditional Mexican to Thai, and international to vegetarian, there's something for every person and every budget.
Generally, the restaurants that are located along the beach are the busiest and most expensive.
You can find several taco stands and stalls on the street corners.
For high-quality Italian dishes, try Da Gabi.
This popular restaurant is always busy with patrons dining on homemade pasta.
Another delicious Italian restaurant is Ambasciata D'Italia, which is slightly more expensive but also serves delicious foods and dishes.
With creative dish names such as steak in a black summer storm or envy of the neighborhood chicken, La Carmela offers an elegant and refined dining experience.
With outdoor dining, a sophisticated wine list, and soft music and lighting, this restaurant is truly a romantic dining spot.
Johnny Cairo's, a popular restaurant with locals and tourists, offers an eclectic mix of Mexican and international dishes.
Although this eatery is on the slightly expensive side, locals say this place should be on your dining itinerary.
For vegetarians in Playa, head to Media Luna, where you can dine on mushroom crepes, bean quesadillas, or fresh grilled fish.
This restaurant has a casual, laid back atmosphere.
One of the most popular restaurants in Playa del Carmen is La Parrilla.
Lobster is the house specialty with side dishes such as tortilla soup and quesadilla.
Also popular are chicken fajitas and enchiladas.
Many locals and tourists flock to Sabor for specialty coffees, teas, fruit drinks, and freshly baked goods.
Locals say the best seafood in Playa can be found at Tarray Restaurant and Bar.
Local fishers bring fresh fish daily, and it's located right on the beach.

Playa Del Carmen Vacation Ideas
Golf: Near the Continental Plaza Playacar is an 18-hole golf course designed by Robert Von Hagge. Green fees are US$100 but can be reduced if you are staying in a hotel that is a member of the club.
Scuba Diving and Snorkeling: Reef, cave, caverns, and cenote diving can be arranged through several dive companies. Rates may include equipment, lunch, and drinks.
Fishing: Many anglers come from around the world to fish off the waters of Playa del Carmen. There are charter boats that leave the pier every day, which you can rent per day or hour.

Where To Shop in Playa Del Carmen?
Shopping hours are generally 10 am to 9 or 10 pm.
You'll come across stores and shops that sell folk art, jewelry, crafts, gifts, and many souvenirs.
For exquisite and intricate amber jewelry, head to the Amber Museum Shop.
The owner, and designer, of this gallery has the amber shipped in from Chiapas.
Telart has clothing and textiles from all over Mexico, as does Manas Huellas, which also carries art and handicrafts from Oaxaca and Chiapas.
La Calaca carries an extensive collection of carvings and wooden masks, such as angels and devils, from local and other artists.