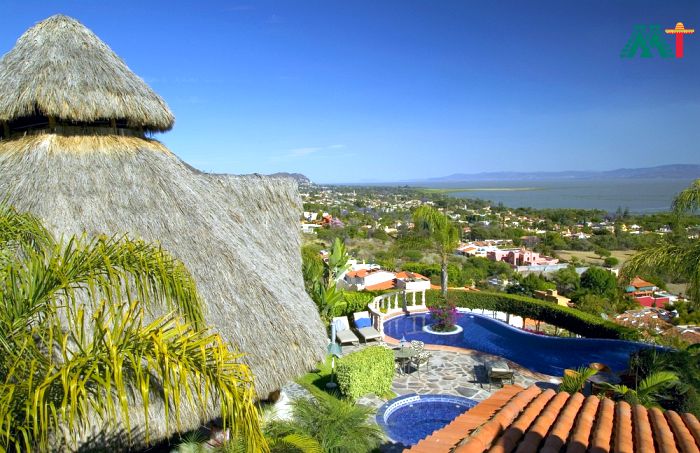 Lago de Chapala is the largest inland lake in Mexico.
Lake Chapala is located 45 km (26 MI) south of Guadalajara.

Tourists didn't start to visit this area until the 19th century. In 1904 when President Porfirio Diaz heard that aristocrats were going here for weekend getaways, he started spending his holidays here. Soon after, summer homes were being built, and the Chapala Yacht Club opened in 1910.Word of mouth quickly spread to Europe and the United States. Now Chapala has a population of over 35, 000.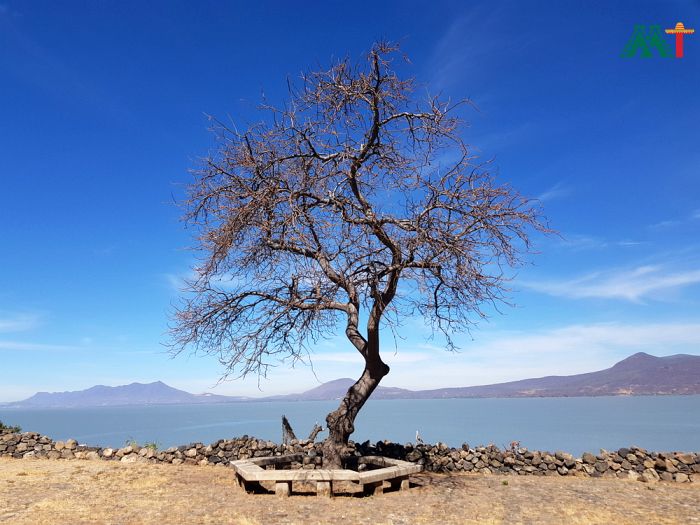 With a pleasant climate all year round, hotels don't require air conditioning or fans.

Accommodations in Lake Chapala
Most of the hotels are quaint yet elegant. Large airy rooms, king-size beds, landscaped gardens, and exquisite decorating will make your stay memorable.
The Real de Chapala has a restaurant, bar, pool, a wading pool, two tennis courts, and a volleyball area.
Sunday brunch at The Real is popular with weekend visitors from Guadalajara.
Rates at the Los Artistas include a breakfast buffet of homemade bread, yogurt, local fresh fruits, and granola.
Prices can range from US$25 to USD 80 and may consist of a full breakfast.

Restaurants in Lake Chapala
Many eating establishments serve large portions for a great price. Outdoor tables, patios, gardens, authentic Mexican decor, and sidewalk tables make restaurants enjoyable and entertaining.

Nightlife in Lake Chapala
Nightspots and dance clubs come and go, but you can always find entertainment at local restaurants and bars. Some feature live bands, a dance area, and theme nights. At La Nueva Posada, there is entertainment each evening, which may include an American jazz band or tropical music.

You will find blocks of stalls, galleries, and workshops in the area. Antiques, furniture, crafts, lamps, wrought-iron furniture, masks, Cuban and Mexican cigars, and jewelry are sold. The Mi Mexico boutique sells items like crafts, gifts, blown glass, pottery, and women's clothing.

Local Lake Chapala Cuisine
Japanese, German, Spanish, traditional Mexican dishes, salad bars, fresh local fruit, and seafood are the types of cooking you will enjoy.

Banks: Banks are generally open from 8:30 am to 5 pm. Most of the banks have 24 hour ATM's that accept credit cards.

Lake Chapala Vacation Ideas
Iglesia de San Francisco: This church was built in 1528, and is easy to spot with its blue neon crosses on the steeples.
Parque la Cristiania: On the weekends, this lakeside park fills up with people browsing the souvenir booths and handicraft market.
Isla de los Alacranes: Scorpion Island is a popular trip from the Chapala pier.
Golf: Members and nonmembers can play at the Chapala Country Club. The club is closed to visitors on Tuesdays.

Where To Eat in Lake Chapala?
You can find just about every cuisine served in restaurants in the Lake Chapala and Ajijic area.
Seafood is one of the most popular and traditional Mexican dishes, but there is also Chinese, Swiss, international, as well as Italian foods, served.
In Lake Chapala, the Beer Garden, established in 1929, has been a popular restaurant ever since it opened.
The rooftop patio is a perfect place to dine on seafood and chicken dishes while enjoying the lake's view.
The best seafood is said to be served at Mariscos Guicho's e Hijos.
This restaurant, located on the waterfront, also serves up frog's legs, caviar tacos, and seafood soup.
For a specialty coffee, imported tea, or a piece of delicious homemade cake or pie while reading an English paper head to the El Arbol del Cafe For some of the best Japanese food found in Mexico, go to the Ajijic Grill.
Meals are prepared at your table, and a sushi bar has been added.
Located on the lakeside, Johanna's German Restaurant serves hearty and delicious portions of traditional German dishes.
For a variety in breakfast foods head to La Casa del Waffle, where you have your choice of 12 different flavors of waffles as well as other traditional breakfast items.

Where To Shop in Lake Chapala?
You will find that there are many craftsman workshops along the shores of Lake Chapala.
The Lake Chapala area is becoming more popular destination for quality crafts pushing Tonala to the next place.
In Ajijic, at the state-owned craft, you will find tapestries, glassware, rugs, and pottery from all over Mexico.
La Coleccion Barbara sells items such as antiques, traditional crafts, and quality furniture.
For wrought-iron furniture, quality lamps, and decorative items head to La Coleccion Moon, open weekdays 8 am to 6 pm but closed during siesta hours.
The Opus Boutique and Galeria carries items such as jewelry, folk art, women's clothing, and masks.
Mi Mexico sells crafts and gifts, blown glass, pottery, and a selection of women's clothing.