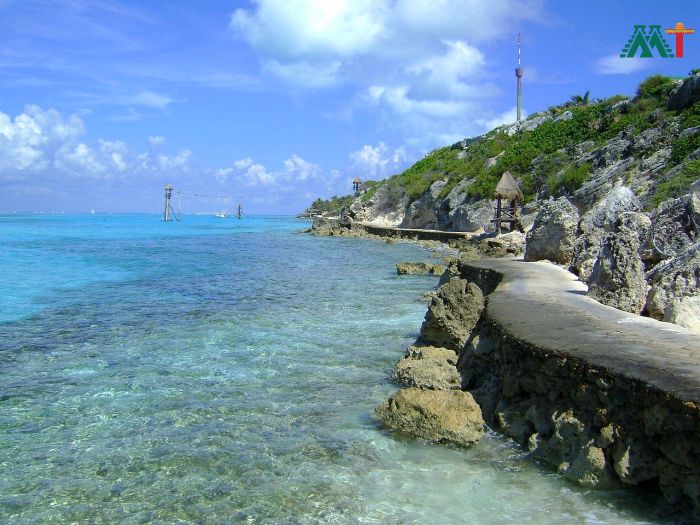 This small island, only 53 km (33 mi. ) long 15 km (9 mi. ) wide, is one of the top five dive destinations globally. With only 3% of the island developed, much of its interior is covered by marshes, lagoons, scrub, and dense jungle.

The word Cozumel means "land of the sparrows" in the Mayan language. To the Mayans, Cozumel was a sacred island dedicated to the fertility goddess, Ixchel. Mayan women were expected to travel here at least once in their lives to pray and give offerings. The temples and ruins built here were invaded by Hernan Cortes in 1519, and due to the building of a US airbase in WWII, many were destroyed.
In the 14th century, Cozumel became an important trading port, but foreign diseases slowly killed the population leaving it almost uninhabited. During the 17th and 18th centuries, pirates used the harbors, catacombs, and tunnels dug by the Mayans for their treasure storing needs.
At the beginning of the 20th century, the chewing gum industry focused on Cozumel for its abundant supply of zapote trees, which led to the discovery of the few ruins left. In the 1960s, Jacques Cousteau's discovery of the diving reefs changes Cozumel's history forever.
It is now one of the world's top diving destinations. There are also about a dozen cruise lines that dock at Cozumel.

Cozumel has a climate typical of the Caribbean. From July to September, average temperatures are in the low to mid 30's. From November to May, temperatures hover around 25 to 28 degrees Celsius, warm breezes, and low humidity make the evenings perfect for a stroll along the beach.

Accommodations in Conzumel
Hotels are located in three areas: Central town, North of town, and South of town. Central town: most of the budget hotels are in this area. Rates range from $36 to $250 US dollars. North of town: rates for hotels in this area range from $90 to $330 US dollars.
South of town: rates are from $122 to $400 US dollars. There are quite a few all-inclusive resorts, with pools, restaurants, gyms, tennis courts, diving equipment rental, moped and car rental, and even massage services. Prices increase during the tourist season. Most hotels accept credit cards.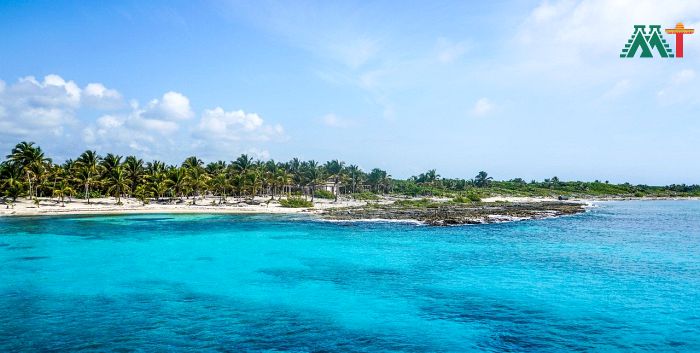 In addition to hotel restaurants, Cozumel offers a wide variety of eating establishments. From expensive, like Pepe's Grill, which has grilled specialties to moderate, like El Moro, famous for its excellent food and great service, to inexpensive cafes and bistros.

Everything from live music, bands, discos, bars, and folk dance is here in Cozumel. Locals and tourists head to the plaza on Sunday night, where you can hear island musicians play tropical tunes.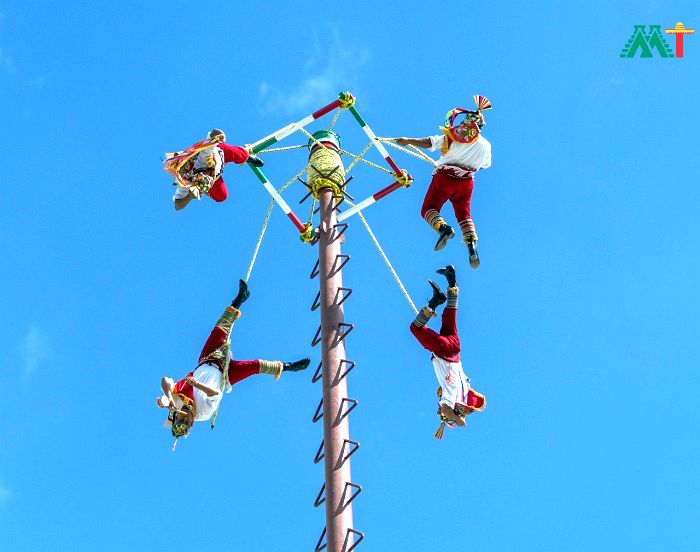 In February, the island explodes with parades, dancing, costumes, parties, and music for Carnival. Most discos and bars are quiet during the week, but on weekends DJs play until dawn for the thriving crowds. The Havana club caters to the more upscale crowd with sophisticated jazz, cocktails, and cigars.

There are over 150 stores located on and around Avenida Rafael Melgar. Here you will find expensive resort wear from jewelry and art to clothing and souvenirs. Los Cinco Soles, Talavera, and Playa del Angel offer high-quality Mexican folk art.
Prices for everyday items are much cheaper on the side streets of Melgar. Located behind the plaza, there is a craft market that offers an assortment of Mexican wares. Department stores are more like variety stores but still stock a wide variety of goods. Fama, Pama, Prococo, and Viva Mexico carry items like jewelry, liquor, souvenirs, handicrafts, books, shoes, CDs, and more.

Traditional Mexican dishes, seafood, Italian, regional, vegetarian, international, and American fare are also available. From grilled steak and chicken, lobster, and fish dishes to tacos and enchiladas, every imaginable dish is prepared, consumed and, savored.

Banks: There are four banks in Cozumel. All banks have ATMs as well as money exchange desks, open only during the morning.
Transportation: Bikes and mopeds are the popular way to travel, but can be dangerous due to heavy traffic, potholes, and hidden stop signs. Due to an agreement with the government, no buses travel the north and south hotel zones. Buses usually run within the town of San Miguel. Service is irregular but relatively inexpensive. To get to many beaches and ruins, you will need a jeep or a vehicle with four-wheel drive. Many hotels have car rental outlets within. The majority of rental agencies have a clause that voids your insurance when you leave paved road. Most roads in Cozumel are unpaved, unmaintained, and can be difficult to maneuver after a storm. Taxis run 24 hours a day, and most wait at major hotels. Rates are cheap, except from midnight to 6 am, where a 25% surcharge is added.

Surrounding Areas of Conzumel
Playa del Carmen: Only 12 MI offshore and a 17-minute ferry ride away. This seaside village is becoming the fastest growing city on the coast.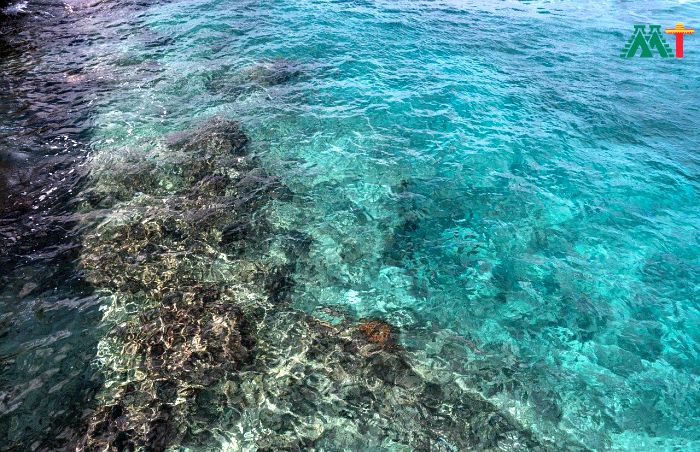 Castillo Real: (Royal Castle) A Mayan site featuring a lookout tower, the base of a pyramid, and a temple with two chambers. The waters here are a perfect spot for diving as there are no people to disturb the fish.
El Cedral: The first site found by the Spanish in 1518, it was the "hub" of Mayan life. Unfortunately, conquistadors tore down most of the temple, and the US Army destroyed the rest. Only a structure with an arch remains. Take a look inside to see the faint traces of paint and stucco. There are several more small ruins in the jungle, but you will need a guide to get to them.
Parque Chankanaab: (Chankanaab Nature Park) Only a 15-minute drive from San Miguel. This national park includes an archaeological park, saltwater lagoon, botanical gardens, dolphin aquarium, and a wildlife sanctuary. Guides will lead you through this park to reproductions of Aztec, Olmec, Toltec, and Mayan stone carvings. Swimming is not permitted at the lagoon, but you can swim, snorkel, or scuba dive at the beach. Three gift shops, two restaurants, and a dressing room are also in the area.
Parque Punta Sur: This 247-acre preserve is Cozumel's newest national park. Exotic animals such as flamingos, crocodiles, herons, foxes, and egrets call this park home. Bikes, small carts, and public buses are here for visitors to use as no cars are allowed.
San Gervasio: Once the island's capital and ceremonial center, the Mayan and Toltec ruins in this area are the most significant existing site onCozumel.
Punta Molas Faro: The views of the jagged shoreline and open sea are well worth the time-consuming journey it takes to get to this lighthouse. This is also an excellent spot for birdwatching, sunbathing, and camping.
Mueso de la Isla de Cozumel: This two-floor museum is housed in what was once Cozumel's finest hotel. On the first floor, you will find exhibits and artifacts dedicated to the natural history. Upstairs, the history of Cozumel is depicted in Mayan artifacts, cannons, and swords of the conquistadors. Guided tours are available.

Where To Eat in Conzumel?
Seafood is the cuisine of choice in Cozumel. Pepe's Grill, which started the grilled-food custom, is a popular dining establishment among locals and tourists.
Flame-broiled foods, such as beef filet and shrimp, keep customers returning. The Lobster House has lobster only on the menu, served boiled with herbs and spices.
Side dishes, such as rice, vegetables, and bread, accompany the lobster at no extra cost. The weight of the lobster you choose determines the price of your dinner.
Fountains, a tropical garden, and a small pond, including the ducks, give this restaurant a romantic atmosphere, making it a place you'll likely never forget.
Delicious regional foods, as well as Mexican dishes served up at El Moro makes this restaurant popular and busy.
House specialties include 'pollo?Ticuenco, from Ticul, a batter-fried chicken breast, is layered with mashed potatoes, corn tortilla, and tomato sauce topped with cheddar cheese.
Enchiladas, sandwiches, nachos, seafood, and regional foods are also famous here. Both tourists and locals flock to La Choza for the pork stew, chicken in a pepper sauce, platters of stuffed shrimp, and beefsteak served at this Maya-type restaurant.
Northern Italian seafood dishes are the specialty at Prima. Everything served at this Italian restaurant is made fresh daily, including the pasta and bread.
Dishes such as fettuccine with pesto lobster and crab ravioli in a cream sauce and shrimp scampi are what you can expect to find on the menu.
Several cafes serve freshly made pastries, waffles, croissants, bagels, and muffins as well as ice cream and milkshakes.

There are quite a few activities to participate in. Most have to do with the water, scuba diving, snorkeling, fishing, swimming, parasailing, andboat tours. Eco tours, jungle treks, horseback riding, are fun, exciting, and entertaining.
Beaches: The Playa San Francisco, Chankanaab Lagoon and the Playa Palancar are Cozumel's best beaches. Food is somewhat overpriced, and equipment rental is available. Most of Cozumel's eastern coastal beaches are unsafe for swimming due to deadly undertows. However, the views of thepounding surf, rocky shore, and limestone formations are spectacular.
Scuba Diving & Snorkeling: With all the reefs, caves, crevices and even a phony airplane wreck, diving in Cozumel is breathtaking. There are approximately 30 dive spots, with Palancar being the best reef. Santa Rosa and Colombia are also highly recommended. Different dive options include deep dives, drift dives, shore dives, night dives, as well as theme dives focusing on photography, sunken wrecks, ecology, and archaeology. Many shops offer tours and equipment. Make sure to check credentials, consult the experienced divers who are familiar with the operators, and check over equipment before choosing a dive shop.
Adventure Tours: From horseback riding, bike and jeep tours, to jungle trekking, Aventuras Naturales offers it all. These daily tours are anywhere from 2 hours to 5 hours long and offer even the most adventurous person a run for their money.
Sport Fishing: Sportfishing in Cozumel is mainly done by trolling, and depending on the season, you can expect to catch bluefish, blue and white marlin (catch and release only) wahoo, grouper, dorado, barracuda and snapper. Many fishing charter companies will pick you up and drop you off at your hotel dock.
Other Activities: Other water activities such as kayaking, surfing, and parasailing are becoming popular. Equipment for these activities is available for rent from some dive shops.

Where To Shop in Conzumel?
In Cozumel, you will find Mexican handicrafts and jewelry such as silver, gold and gems, and duty-free shops. Store hours are generally 9 am to 2 pm, and 5 pm to 10 pm; however, many stores are now staying open during siesta hours, especially during the tourist season.
The principal shopping area is located downtown on the waterfront along Avenida Melgar and along some of the side streets around the plaza. Miro, an upscale sportswear store; Poco Loco, a casual wear shop; and Bikinis do Brasil, which sells sundresses and swimwear, are all located along this street.
A craft market, located behind the plaza, sells just about every type of Mexican ware. The majority of the newer, trendier shops are located along the waterfront. Talvera, Los Cinco Soles, and Playa del Angel are the best places to purchase Mexican folk art. Xtabay specializes in artwork by artists from all over Mexico.
The department stores in Cozumel are more like variety shops. They carry everything from CDs and books, to shoes and clothing, to gifts and liquor. For jewelry, which tends to be a little pricey in Cozumel, try Diamond Creations, which lets you customize jewelry from an array of loose stones.

At Joyeria Palancar bracelets and earrings made from coral, gold and silver are the main attraction.