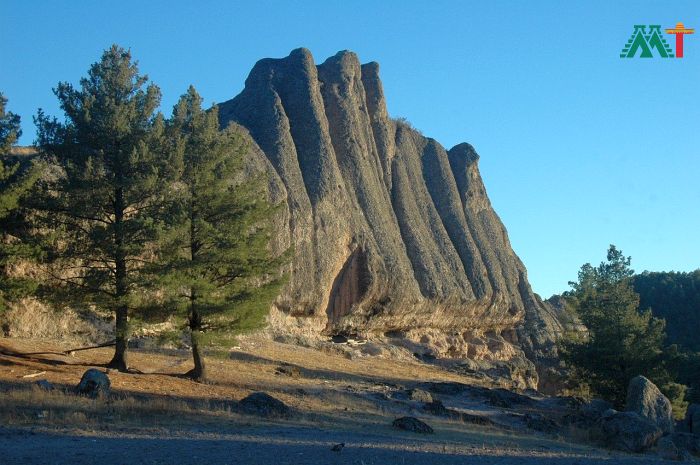 Known as Barranca del Cobre, these vast cavernous canyons are large enough to envelop the Grand Canyon four times. The main attraction of Copper Canyon is the Chihuahua Al Pacifico railroad. This train travels over 661 km (410 MI) of track, passes through 87 tunnels and crosses 35 bridges. Either beginning or terminating in Los Mochis or Chihuahua, the train passes through land rich in history, culture, and natural beauty.
The canyons are located on the eastern edge of the "Pacific Ring of Fire" in the Sierra Madre region. The towns of Los Mochis, El Fuerte, Bahuichivo, Cerocahui, El Divisadero, Creel, and Chihuahua are located in the canyon area.

Seismic and volcanic activity started forming these vast canyons, pushing a large quantity of mineral wealth to the surface. The Urique, Septentrion, Batopilas, and Chinipas rivers further carved the canyons over many thousands of centuries. The Tarahumara Indians once occupied the entire state of Chihuahua. With the arrival of the Spanish, the Indians were put to work in the mines discovered in the canyons. Americans and Mexicans put them to work on the railroads being built in 1881.The threat of war and slavery that began in the 1600s and continued through to the 20th century forced these native people to retreat deeper into the canyon. To this day, their land is still being taken over by loggers and drug lords. Farming, cattle raising, and mining are the means of wealth in this region.

From late April to June, the weather is hot, hazy, and almost unbearable. Chronic water shortages are common in many hotels and towns. Try to avoid traveling during this time. October to early November and March to April are the high seasons when temperatures are moderate. The canyon rim may get freezing weather November through to March. At the bottom of the canyon, temperatures may get cool enough to require a sweater. During the other half of the year, the canyon bottom is hot, and the rim is cool.

Accommodations in Copper Canyon
Accommodations are cheap in the Copper Canyon. Anywhere from a $4 bunk to $225 (US dollars), double rooms are available. Different hotels offer different options from meals included, to tours, horseback riding, and guides for hiking. Some are little more than a place to rest your head while others are alive with splendor and luxury. Getting a room can be tricky during the high seasons. It is recommended that you have an itinerary, reservations, and train tickets before you embark on your journey.

Restaurants in Copper Canyon
The towns along the way all have a few eating establishments. Wander around and see which appeals to you. Most hotels have an informal dining room.

Nightlife in Copper Canyon
Of the few nightclubs and discos, there are, most are located in Creel. All of the towns have at least one popular hangout, usually a bar. Los Mochis has a disco and a club with live bands.

Shopping in Copper Canyon
There are many small gift shops and stores along the train route. At several of the stops along the way, you may encounter Tarahumara Indians selling baskets, dolls, homemade violins, snacks, and drinks.

Local Copper Canyon Cuisine
Seafood is quite popular. Many of the restaurants will cook it any way you prefer. Of course, every type of Mexican dish is available. Sushi, chicken, steak, burgers, pasta, and a lot of fruit are all served. Meals are served on the train but at very high costs. It is recommended you bring your own snacks and beverages.

Services in Copper Canyon
Banks: Make sure you have adequate funds before starting your trip. Exchanging money outside of Creel is practically impossible. Only expensive hotels accept credit cards, and even then, they have to use radios to confirm your card.
Transportation: The primary way to travel this area is by train. There are first and second class trains, but it is recommended you pay the few extra dollars to board the first class. The first-class train, Estrella, is primarily a tourist service. In contrast, the second-class train, Mixto, is slower and less comfortable. Buses travel between Creel and Chihuahua daily. The trip takes around 4 to 5 hours. Try to board at either Creel or Chihuahua as buses fill up at stops along the way, and you may end up standing for the duration of the trip.

Surrounding Areas of Copper Canyon
Batopilas: This silver mining town, founded in 1708, is 5 hours (by four-wheel drive) from Creel. Driving down the narrow, winding dirt road, you will see some of the most beautiful scenery in Copper Canyon.
Basaseachic Falls: The time it takes to trek to these falls (4 hours driving, 3 hours hiking) is well worth it. The best time to visit is during the rainy season, July to September. These spectacular falls are viewed as the tallest single cascade in North America.

Where To Go in Copper Canyon?
All along the rail line, you will find areas to hike, swim, camp, trek, and drive. Ask at hotels which activities are popular in the area you are in.

Where To Eat in Copper Canyon?
There are many restaurants located in the various towns up and down the railroad. The El Farallon is Los Mochis serves sumptuous fish, sushi, and sashimi. A trendier and slightly more expensive place to dine is the Restaurante Espana. Popular with the local business crowd, seafood, Spanish dishes and beef are consumed around an indoor fountain. Open 24 hours a day seven days a week the, El Taquito serves up hearty Mexican meals such as ?arne tampiquen, a steak with enchiladas, beans, and guacamole. In El Fuerte, at the El Fuerte Lodge, tourists, not yet used to the Mexican foods, can dine on international cuisine. At the Rio Vista Lodge, patrons can dine, on simple but delicious meals, outdoors with a view of the river and wildlife. The El Meson del General is famous for its fresh fish, crawfish, black bass, and steaks. In El Divisadero, meals are generally included in the hotel rate. Plentiful Mexican dishes, seafood, and some international foods are served.
Veronica, located in Creel, is popular with locals and tourists because of the plentiful and cheap meals. Vegetarian soups, tacos, burgers and burritos, and Mexican dishes are on the menu. At the Restaurant Cabanas, you will find tacos, burritos, soups, and appetizers for less than US$2.

What To Do in Copper Canyon?
Horseback Riding: Several hotels in the towns along the railroad can arrange for horse rental to tour the mountains and canyon vistas.
Fishing: In the town of El Fuerte, there are several areas where you can fish for bass and trout.
Hiking: Trekking through the canyons can be anything from a pleasant stroll to a thigh-busting experience. Make sure you travel with a guide or partner as you are in the wilderness, and you can count on somebody coming along to rescue you.
Organized Tours: Hotels offer tours from 2 hours to 10 hours, depending on whether a group of people can be found.

Where To Shop in Copper Canyon?
In Los Mochis, La Cava Deli sells beer and liquors, cigars, snacks, and drinks. At the El Fuerte Lodge, there is a gift shop and gallery which sells paintings, Tasa Grandes' pottery, and souvenirs. In Creel, the Artesanians Mision sells crafts, handiwork, and Tarahumara dolls. You can find these items as well at the Casa de las Artesanians. The Artesanians Victoria sell handmade wood furniture as well as Tarahumara pots.

Tarahumara women sell belts and sashes, fiddles, dolls, masks, baskets, and poetry at train stations and various locations in the Copper Canyon region.