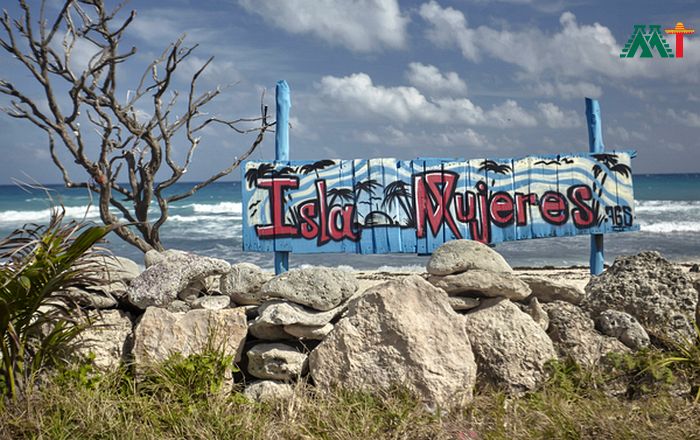 Isla Mujeres (Island of Women) is just five miles long and two and a half miles wide. It is visible from the shore of Cancun.
Isla Mujeres is located 8 km (5 MI) north of Cancun.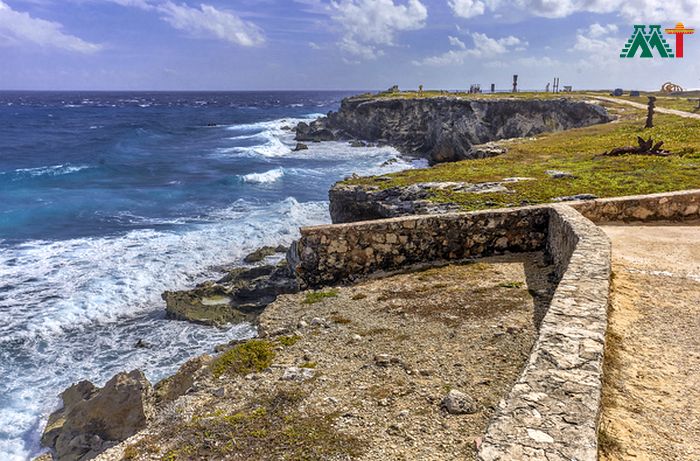 Isla Mujeres enjoys a warm tropical climate all year round.

Accommodations in Isla Mujeres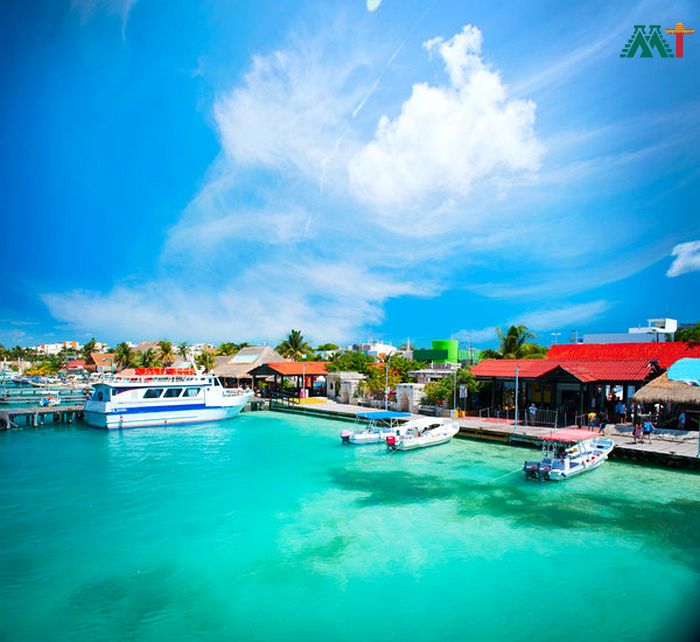 Although Isla Mujeres is a small island, some of the hotels offer splendor and luxury equal to Cancun.
Options may include pools, meditation areas, boat docks, free use of bikes, scuba diving and snorkeling equipment, fitness centers, fishing trips, and tour agencies.
Rates range from US$40 to US$400.
Most hotels are located in the downtown area.
Rates double in the high season, which is November to April, and July to August.
Camping is not allowed on the beaches, and police enforce this by doing beach patrols.

Restaurants in Isla Mujeres
The best way to find a place to eat is to wander the street and see what catches your fancy simply. There are many food stands and snack bars scattered about town. Huge meals are offered at low prices. Many restaurants and snack bars are located around the beach so that you may eat at tables sitting in the sand.

Nightlife in Isla Mujeres
Nightlife on Isla Mujeres is laid back. Most restaurant bars have a happy hour each evening. Several clubs offer live music, friendly staff, and good Mexican food.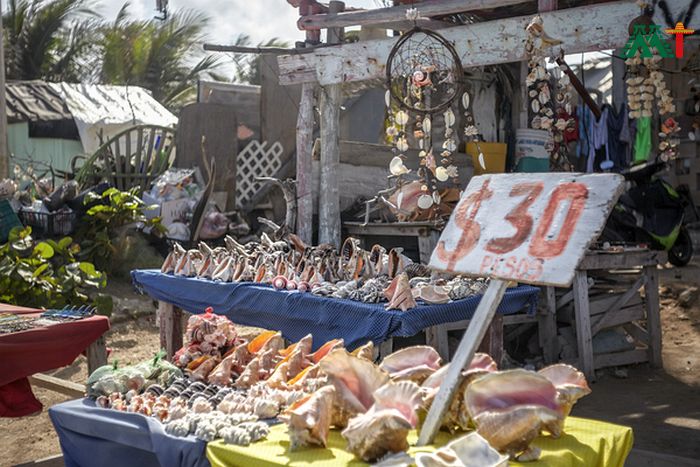 Most shops are open from 10 – 1 and 4 – 7 and closed on Sundays. Mexican crafts such as silver, handcrafted jewelry, clothes, textiles, and folk art are the most abundant. Casa del Arte Mexica offers hammocks, woodcarvings, silver jewelry, leather, and limestone carvings. Van Cleef & Arpels have a large selection of jewelry.

Local Isla Mujeres Cuisine
The types of food served here include fish, seafood, traditional Maya dishes, American breakfasts, Italian, and the Caribbean.

Banks: The only bank on Isla Mujeres is open 8 am to 7 pm with a money exchange desk open from 10 until noon. Be sure to use the ATM in the morning as it is often empty by evening.
Internet: CompuIsla offers internet access Monday through Friday 8 am – 10 pm and Saturdays from 9 am – 4 pm. Access is US$4 per hour.
Transportation: The favored mode of transportation is by golf cart. Carts can be rented by the hour or by the day. Most hotels have dollies available for rent also. Bikes, mopeds, and scooters are also a cheap and fun way to travel. Taxis are plentiful and cheap. You can rent one for about US$10 per hour. A trip from downtown to the beach is approximately US$2.

Surrounding Areas of Isla Mujeres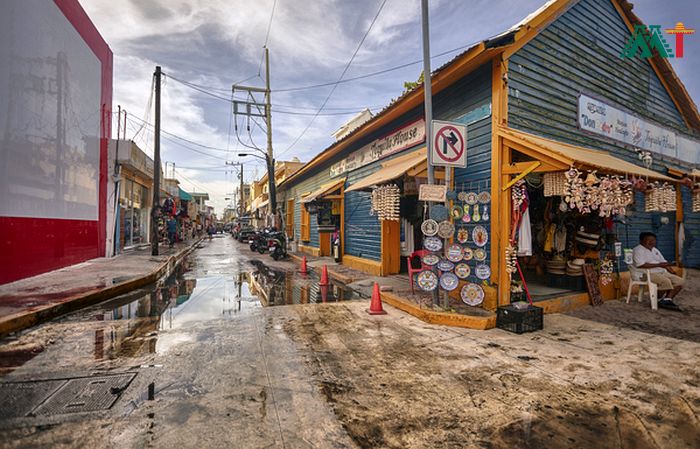 Isla Contoy: 45 minutes north of Isla Mujeres is a natural bird sanctuary. This uninhabited island is only accessible by organized tours. Heron, flamingos, pelicans, cormorants, and frigate birds make this lush tropical island their home. Depending on the weather, snorkeling is a popular activity here also.

Where To Go in Isla Mujeres?
Cemetery: Carved angels, flowers, 100-year-old gravestones, and elaborately decorated tombstones fill this unnamed cemetery.
El Garrafon National Park: This national marine park, bought by the owners of Xcaret, is a popular snorkeling place for day-trippers from Cancun. A three-floor building houses a restaurant, bathroom facilities, and a gift shop. As a result of too many visitors, much of the coral reef has been destroyed. In an attempt to recover it, access is restricted to 700 people per day.
Hacienda Mundaca: This crumbling 19th-century mansion was built by trader/pirate Fermin Mundaca de Marechaja. To woo a local beauty he had fallen in love with, he built this mansion. Unimpressed, the lady married a local islander leaving Marechaja to go mad, waiting for her slowly. Not much remains except a rusted cannon, a crumbling guardhouse, a well, and an arch.
Maya Ruin: The remains of this temple was once dedicated to Ixchel, goddess of fertility. Though Hurricane Gilbert blew much of the ruin away in 1988, part of it has been restored. A park entrance fee is required since it is under the management of El Garrafon National Park.
Tortugranja: (Marina Turtle Farm) Visitors can view hatchlings and young turtles of different species at this facility devoted to the study and preservation of sea turtles.

Where To Eat in Isla Mujeres?
Around Isla Mujeres, you will find several economic kitchens that serve sumptuous but inexpensive regional dishes.
A traditional Yucatecan specialty served at most restaurants is "tikinchic", a fried fish marinated in an orange sauce.
If you are looking to dine along the beach, try the Las Palapas Chimbo's.
Fried fish and fresh seafood are popular items on the menu.
In the evenings, this restaurant turns into a hopping dance club.
For a delicious lobster dinner, served with sauces, butter, and garlic, head to the Pinguino.
This waterfront restaurant serves up massive plates of seafood, fajitas, and ribs.
At the market, several stands and stalls sell Mexican and regional foods.
For a light and inexpensive meal, the Chen Huaye is the place to go.
Fried chicken, pork chops, quesadillas, and empanadas are some delicious items on their menu.
The Cocina Economica Carmelita, popular with locals but little known to tourists, serves up huge lunches and dinners and the most inexpensive lobster on the island.
Authentic Mayan dishes are offered as well.

Isla Mujeres Vacation Ideas
Fishing: There is fishing all year round in Isla Mujeres. Bonito, mackerel, kingfish, snook, tarpon, bonefish, barracuda, snapper, and even some sharks are caught by offshore, casting, and deep-sea fishing. Rates differ depending on if you want to go deep-sea fishing or offshore. Group packages are available, which includes lunch and drinks. The Red Cross Billfish Tournament takes place in the spring.
Beaches: There are four beaches in Isla Mujeres. There are two popular restaurants in Playa Norte where locals and tourists go to eat fresh seafood, watch the sunsets, and drink beer. On this beach, there are stands where you can rent equipment for snorkeling, jet skiing, and sailboarding. Playa Paraiso and Playa Lancheros are excellent spots for picnics, shopping at the stands selling various types of souvenirs, and swimming. At Playa Lancheros, there are some sea turtles and nurse sharks housed in sea pens. Located at Playa Indios is the Atlantis, a submarine tour. There are always lots of people milling about at this beach.
Scuba Diving & Snorkeling: Coral reefs, marine life, a partially buried statue of the Virgin Mary, caves, sleeping sharks, a bronze cross, and even two sunken ships make diving here spectacular. Certified PADI guides are available.
Boat Tours: Several companies offer boat trips to places such as Isla Contoy, the submerged statue of Virgin Mary, the lighthouse, the turtles at Playa Lancheros, El Garrafon, and some coral reefs. Packages include lunch and drinks.

Where To Shop in Isla Mujeres?
Shopping on Isla Mujeres is generally Monday to Saturday, from 10 am to 1 pm and 4 pm to 7 pm.
Some stores are now open during the siesta hours but are closed on Sundays.
Shopping has become more sophisticated, going from souvenir shops to stores selling Mexican crafts, clothes, handcrafted jewelry, silver, and folk art.
Several shops sell duty-free stones and gems, and reportedly Isla Mujeres is famous for its prices on gems.
These stones can be bought and then set in a place setting of your choice.
Along with the Hidalgo, you will find shops and stores that sell items such as blown glass, T-shirts, silver, Guatemalan clothing, rugs, and silver.
It is said that shop owners increase their prices so that bargaining may be needed.